Beat the Devil
(1953)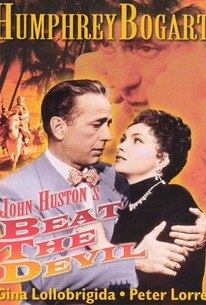 Movie Info
Humphrey Bogart stars as one of five disreputable adventurers who are trying to get uranium out of East Africa. Bogart's associates include pompous fraud Robert Morley, and Peter Lorre as the German-accented "O'Hara", whose wartime record is forever a source of speculation and suspicion. Becoming involved in Bogart's machinations are a prim British married couple (Edward Underdown and blonde-wigged Jennifer Jones). As a climax to their many misadventures and double-crosses, the uranium seekers end up facing extermination by an Arab firing squad. The satirical nature of Beat the Devil eluded many moviegoers in 1953, and the film was a failure. The fact that the picture attained cult status in lesser years failed to impress its star Humphrey Bogart, who could only remember that he lost a considerable chunk of his own money when he became involved in the project. Peter Viernick worked on the script on an uncredited basis. Beat the Devil eventually fell into public domain, leading to numerous inferior editions by second and third-tiered labels.
Critic Reviews for Beat the Devil
Audience Reviews for Beat the Devil
Beat the Devil is too comedy to be an adventure movie and too much of an adventure movie to be a comedy. You'd think getting John Huston & Humphrey Bogart (and Peter Lorre, too!) together again would be a great thing but the more I see of Bogart's filmography from the 50s, the more I realize that it just wasn't his decade. Beat the Devil is just a collection of unrealized possibilities. A great con picture that never happened, a great heist picture that could've been and what in the hell could possibly possess a man to choose Jennifer Jones over Gina Lollobrigida? Beyond that you're just in for some nice scenery (Lollobrigida included) and a mess hiding behind the guise of amusement at the end.
Michael Gildea
Super Reviewer
An oddball collection of individuals from varying backgrounds and parts of the globe board a ship bound for Africa to seek their fortunes. Obviously an homage to Huston's classic debut The Maltese Falcon, Beat The Devil is a curious mix of comedy and intrigue that doesn't really work as either. The collection of racial stereotypes on display farcically bumping into each other, engaging in affairs and hushed conversations made it feel like an Agatha Christie murder mystery; but with out the murder. Or the mystery. Bogie coasts through the film with a look of mild amusement exercising his usual dry wit and Robert Morley seems to be doing a kind of stuffy Sidney Greenstreet impersonation, but all the characters are really rather annoying and it's kind of difficult to care what happens to any of them. The ladies were easy on the eye and Bogart is always worth watching but during the whole thing I just wished I was watching Across the Pacific instead.
A great cast in a great movie about a bunch of thieves. I highly recommend this movie.
Beat the Devil Quotes
There are no approved quotes yet for this movie.