Beatdown
(2010)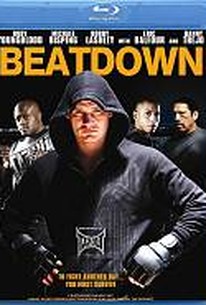 AUDIENCE SCORE
Critic Consensus: No consensus yet.
Movie Info
A young street fighter flees the city in order to escape from a vicious gangster, and stumbles into a whole new world of problems while brawling to raise the money needed to settle his late brother's debts. When Brandon's brother Frankie was murdered, he was carrying the $40,000 he owed to a local gangster. Now the money is nowhere to be found, and Brandon has just one week to pay up, or suffer the consequences. Panicked, Brandon flees to his father's house outside of the city, and learns of a local underground fight club that could be his ticket to freedom. When Brandon meets former MMA champion Drake Colby, the pair hatches a plan to raise the money fast, or die trying.
Critic Reviews for Beatdown
There are no critic reviews yet for Beatdown. Keep checking Rotten Tomatoes for updates!
Audience Reviews for Beatdown
½
This was like Never back Down only with the Tapout Brand nailed to it. I saw Eric balfour was in it, & Heath herring (from some of the other Tap out movies I got for dad?) & well beign Eric is in the scene w/ Heath I wanted to see it. (all I?ll say is at least Eric?s gorgeous face wasn?t ruined. Lol Fake or not!) predictable (all these types are..1. whatever their backstory for fighting, 2. There?s a girl, 3. Fight over girl, 4. Whatever crap they?re in that makes them fight & 5. Cliché same as all of them ending. ) So this I?m giving a C- (why well let?s just say of a certain match.. Let?s just say I?m surprised someone was ?aloud? to win against a certain someone.
Kym (c my community profile) Ragarsson
Super Reviewer
½
It REALLY suprised me that this movie wasnt as bad as I thought it was gonna be.Its not a movie that Ill go out & buy or watch again but like I said, It wasnt as bad as I thought it was gonna be.My only problem was the camera work.Sometimes the camera would zoom in & out for no reason,It would shake or whatever.Im no movie camera expert but it seemed like somebody got a new camera & they were trying to figure out how to work it or testing it out on the movie
Brody Manson
Super Reviewer
Beatdown Quotes
There are no approved quotes yet for this movie.