Beau Jest
(2008)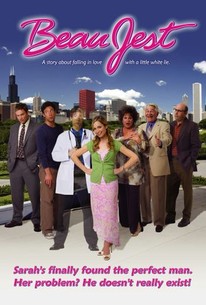 AUDIENCE SCORE
Critic Consensus: No consensus yet.
Movie Info
Beau Jest is the hilarious, heartwarming story about Sarah Goldman, a beautiful young school teacher from Chicago who is involved with Chris, a great guy with just one apparent flaw, he's not Jewish. Sarah tells her parents that she is no longer seeing Chris, but continues to date him in secret.

To keep her mother from trying to fix her up with "nice Jewish boys," Sarah invents the perfect boyfriend and regales her parents with stories of the man of her mother's dreams. Eventually they insist on meeting the man, and in desperation, Sarah hires Bob, an actor, to play the part of her new beau. Unaware of the scope of the role he has taken on, Bob accompanies Sarah to dinner with her parents and her brother Joel. He quickly realizes that what he has gotten himself into is much more than he bargained for. It will take all of his charm, wit and improvisational skills to pull off the charade. But Bob rises to the occasion, and the antics that follow is only the beginning of a side-splitting tale that will have you rolling in the aisles, and wiping tears from your eyes at the same time.

Beau Jest stars Lainie Kazan, Robyn Cohen, Tony Daly, Willie Garson,Greg Cromer and Seymour Cassel. --© Official Site
Critic Reviews for Beau Jest
All Critics (2) | Top Critics (1) | Fresh (1) | Rotten (1)
Waste[s] the talents of a very good supporting cast and has so few laughs in it that it almost defies categorization as a comedy.

Deseret News, Salt Lake City
Audience Reviews for Beau Jest
This is a small independent movie, based on a play written by the director. It is cute and heartwarming. (Premise - Jewish girl doesn't want to tell her parents that she's dating someone who is not Jewish, so she hires an actor to pose as her Jewish boyfriend.) The movie takes place in Chicago. Some of it was filmed locally, and it shows a pretty side of the city. The plot has several cliches, but as far as I'm concerned that's OK. There were a lot of laughs from the audience, and I have to confess that I found much of the dialogue amusing. For me, the funniest part was when the main character is driving to visit her parents and there is a drive by shot of the Village of Skokie sign. Ha!
Sharon Weinberg
Great date movie. If you want a good clean date movie to snuggle and laugh through then may I suggest Beau Jest. I am not sure clean was the other reviewers idea of fun. It is for me and I give this movie the nod of approval.
Michelle Ose
Beau Jest Quotes
There are no approved quotes yet for this movie.
Discussion Forum
Discuss Beau Jest on our Movie forum!