Beautiful Darling
(2011)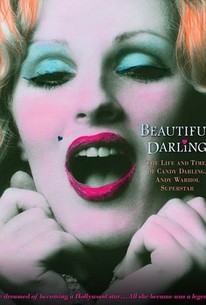 Movie Info
Born in a Long Island suburb in 1944, James Slattery immediately felt drawn to the feminine side of life -- to such a degree that he established himself as one of the most iconic of all female impersonators, Candy Darling. As given life by Slattery, this young, sexy, and alluring blonde actress single-handedly overtook Manhattan. She attained her greatest recognition for her portrayals in two Paul Morrissey-directed films: Flesh (1968) and Women in Revolt (1971), both produced by Andy Warhol. Mainstream stardom soon beckoned to Darling, but aside from bit appearances in such productions as Klute (1971) -- and playwright Tennessee Williams's decision to cast her in a production of his Small Craft Warnings -- she continued to suffer from marginalization. Internally, if Darling suffered from an intense and bitter loneliness that propelled her into a life-long search for love, she also wielded boundless courage -- the same courage that enabled her to transform herself from a Long Island-bred young man into a Manhattan glamour goddess. Tragically, she died of lymphoma at age 29, soon after attaining stardom. James Rasin's documentary Beautiful Darling pays unfettered tribute to Darling's all-too-brief life and career, with a combination of current and vintage interview material, rarely seen archival photos and footage, and extracts from Darling's movies. Rasin weaves much of the material around the theme of fidelity to one's true self and deepest convictions, as exemplified by Darling. Morrissey executive produced. ~ Nathan Southern, Rovi
Rating:
NR
Genre:
, ,
Directed By:
Written By:
In Theaters:
On DVD:
Box Office:
$13,400.00
Runtime:
Studio:
Critic Reviews for Beautiful Darling
Audience Reviews for Beautiful Darling
This is a documentary about the drag queen/transsexual performer Candy Darling, who was one of Andy Warhol's Superstars. Most of the film is relayed through interviews conducted by her friend Jeremiah Newton, who takes up almost all of the film as he mugs for the camera. I don't believe his sentiments are untrue to the spirit of Candy, but the film shouldn't have featured him so heavily. The film also provides a lot of footage of Candy in various films, backstage at comedy clubs, and there are voice overs (Sevigny) that read from her diaries. From the many interviews there's a decent enough picture of who she really was and what she wanted, but there wasn't a lot of context, historically speaking. For someone unaware of Warhol's oeuvre, this film is not very informational. There's no link between Warhol and Candy, except for when those interviewed express Candy's dependency on the icon for her continued fame. Otherwise it's unclear how Candy became Candy other than from the words of Newton. We don't know how she made it to New York, how she transformed herself, or what her relationship with Warhol was like. While these aspects of her story may not be what's important to understand her as a person, they need to be shown to the audience so we understand the film's narrative.
Spencer S.
Super Reviewer
A documentary most-likely for pop culture enthusiasts only as this film is about female impersonator Candy Darling -- a frequent inhabitant of Andy Warhol's The Factory who also featured prominently in some of his "film" work with her most notable work being in two Paul Morrissey-directed films (Warhol-produced), Flesh (1968) and Women in Revolt (1971). Always dreaming of being a larger-than-life star, Candy Darling wanted to be an acclaimed actress and aspired to find the right role in a mysterious noir film in which Candy's true talent would be recognized and not marginalized as "that cross-dressing actor" many in the mainstream still joked about. We are so busy judging others based on who we think they should be we oftentimes forget those we chide are also human beings trying to find meaning and understanding themselves. Candy is a sad human being -- not because of who she was -- but because of how others believed it was their right to belittle her as they didn't want to understand her. Playwright Tennessee Williams wrote a piece for her off-Broadway that brought her some of the success she had so desired and craved; but it was short-lived -- as was she. Darling was diagnosed and died from lymphoma at the age of 29 -- a tragic star was a role to die for! This is an interesting piece as Warhol's celebrity circle prided itself on being different and unusual.
Thomas Williams
The most lasting aspect of the film for me is the enduring devotion of Candy's best friend, Jeremiah Newton. These many years later, he is still looking after her. Though the love story here many not be a conventional one, these are not conventional people. I've seen this three times, and it gets even better with each viewing. The soundtrack is perfect. Not too obtrusive, but always appropriate.
Guy Swenson
Beautiful Darling Quotes
There are no approved quotes yet for this movie.