Beavis and Butt-head Christmas
(1997)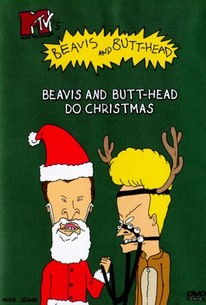 AUDIENCE SCORE
Critic Consensus: No consensus yet.
Movie Info
Who better symbolizes the joy and warmth of the holiday season than Beavis and Butt-Head? Before you answer that, you might want to take a look at this video in which MTV's teenage terrors parody two classic Christmas stories. In "Huh Huh Humbug," the Ghosts of Christmas Past, Present, and Future try to teach Beavis the meaning of Christmas (predictably, he'd rather be left alone to watch porn videos), while "It's a Miserable Life" has Charlie the Guardian Angel showing Butt-Head how much better off the world would be if he had the common decency to do away with himself.
Rating:
NR
Genre:
, ,
On DVD:
Runtime:
Critic Reviews for Beavis and Butt-head Christmas
There are no critic reviews yet for Beavis and Butt-head Christmas. Keep checking Rotten Tomatoes for updates!
Audience Reviews for Beavis and Butt-head Christmas
[img]http://images.rottentomatoes.com/images/movie/coverv/44/132644.jpg[/img] [font=Verdana]Beavis and Butt-Head were way ahead of their time, much like [/font][font=Verdana]South[/font][font=Verdana] [/font][font=Verdana]Park[/font][font=Verdana], in my opinion. When [/font][font=Verdana]South[/font][font=Verdana] [/font][font=Verdana]Park[/font][font=Verdana] and Beavis and Butt-Head first came out, I remember everyone was talking about it at school. Some people's parents would not allow them to watch it. There were also reports on the news and in the newspaper about kids doing something because they saw it on these shows. A lot of people thought the material was inappropriate.[/font] [font=Verdana] [/font] [font=Verdana]"What are you doing in a porno?"[/font] [font=Verdana]"I'm trying to score, what do you think?"[/font] [font=Verdana] [/font] [font=Verdana]The same thing happened when the Simpson's came out, now they are [/font][font=Verdana]America[/font][font=Verdana]'s family. The truth is, now on Adult Swim, there is a lot racier material then ever appeared on Beavis and Butthead. I, personally, was always a big fan of the characters. The teacher, Principal McVicker, and Tom Anderson were great, as was Daria. Heck, there was two spins offs from this one show: Daria and King of the Hill.[/font] [font=Verdana] [/font] [font=Verdana]"Did you say you have Christmas presents?"[/font] [font=Verdana]"No, I'm the ghost of Christmas present."[/font] [font=Verdana] [/font] [font=Verdana]Beavis and Butt-head "Do Christmas" does an excellent job with their Christmas specials, far better then the Butt-O-ween special. I guess Christmas is a more popular holiday that has to have Christmas specials on a yearly basis. This whole disk is a combination of five Christmas specials, they are all very entertaining.[/font] [font=Verdana] [/font] [font=Verdana]"Now it's time to reach back in my old sack."[/font] [font=Verdana] [/font] [font=Verdana]There are no music videos played in these episodes. I remember that being the worst part of the shows, however, I wish it were still an option to view on a separate portion of the DVD. I appreciate the release of the collection, but I am disappointed it was not release in a "Season 1, Season 2" format. I consider it a must have DVD set for your collection, and I ordered all 6 currently available. Now the box-set is being released and I am pissed!!![/font] [font=Verdana] [/font] [font=Verdana]"I'm trying to watch a porno and you fart-knockers keep interrupting me."[/font] [font=Verdana] [/font] [font=Verdana]Grade: A[/font]
Kevin Robbins