Bee Gees, The - One Night Only
(1997)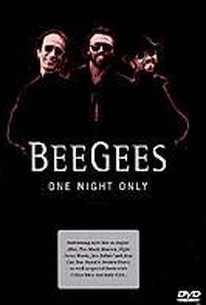 AUDIENCE SCORE
Critic Consensus: No consensus yet.
Critic Reviews for Bee Gees, The - One Night Only
There are no critic reviews yet for Bee Gees, The - One Night Only. Keep checking Rotten Tomatoes for updates!
Audience Reviews for Bee Gees, The - One Night Only
With only one living Gees, now a stunning, or at least high energy Las Vegas live concert featuring all the hits of the Bee Gees, the phenomenol group of the 70s, 80's and 90's. Make no mistake, this live concert is fantastic (if you're a fan), complete with a screen backstage that shows so much visual enhancements to what is being sung. A very cool touch. SEE the entire concert plus additonal minutes (note: this begins with the end of the show, then continues from the start of the concert, don't ask me why): http://www.youtube.com/watch?v=YJY7snrUDQI [img]http://cdn2-b.examiner.com/sites/default/files/styles/image_content_width/hash/ba/fd/1337719032_SYDNEY,%20AUSTRALIA%20-%20MARCH%201999The%20Bee%20Gees%20perform%20during%20the%20'One%20Night%20Only'%20concert%20at%20Stadium%20Australia%20in%20Sydney,%20Australia.%20(Photo%20by%20Patrick%20Riviere.Getty%20Images).jpg?itok=2DfgJzlu[/img] One Night Only is a live album and DVD by the Bee Gees. It features the group's "last" concert at the MGM Grand in Las Vegas in 1997 and includes many if not all of their greatest hits. Barry Gibb, that hi falsetto voice for such a big man, is featured in just about every song. One particular song that is without him (for a change) is sung by up to fashion Robin Gibb, now nearly without hair and wearing sunglasses during the entire concert. [img]https://encrypted-tbn1.gstatic.com/images?q=tbn:ANd9GcS49ueRB82vpXTIPrbW1zaPhyEW-vzHzHjz8cSn9Uiwelfx7S6Epg[/img] Barry Gibb, sadly the lone survivor of the Bee Gees [img]https://encrypted-tbn0.gstatic.com/images?q=tbn:ANd9GcThVlzaH1wddEZs6xFhKz46aqFWv4Qe2z__laPiPuuJM2NSaWvlYQ[/img] Robin Gibb, just died not long ago Robin Gibb's song: "I Started a Joke", is strangely a highlight of the evening in that Barry sings almost all the tunes at this thrill packed concert. [img]http://jsnouff.com/kristin/beegees/backsofbgs.jpg[/img] The Aussie group Bee Gees (abbreviated for Brothers Gibb) performed this on DVD in MGM Hotel Las Vegas, their "last" live concert. It was very well recieved by all and was visited by Olivia Newton John in the audience, front row, (spotlighted in the audience during the group's "Grease" movie song, a big hit of the night). By the way, Frankie Valli of the Four Seasons was not onstage, but his voice was, a strange tribute to the equally high falsetto crooner. [img]https://encrypted-tbn1.gstatic.com/images?q=tbn:ANd9GcTwzHtKXo5u-sj5dnlqF2D-ZZgImnOdL2Atxeua_J6BrN6BLPRkxg[/img] Barry Gibb The Bee Gees performed songs from every decade of the 1960s through to the 1990s. They also sang a tribute song to their late brother Andy Gibb, "(Our Love) Don't Throw It All Away". During this song old footage of Andy is shown, including him singing the second verse of the song, an errie sight. The vocals from the original recording also play during that section. [img]https://encrypted-tbn1.gstatic.com/images?q=tbn:ANd9GcSOzmD_Awsx-EsFffNLXyrqHtAd233avnXSwEaCeUD3zEC-B2Qz[/img] A preciously sung song by Céline Dion guest-starred on the Bee Gees-penned "Immortality", singing only one song. Recorded vocals by Frankie Valli (not present live onstage) are featured during "Grease", and are also lifted from the original song. If you are a fan of the group, you will find this Las Vegas farewell concert emotionally engrossing, uplifting but yet sad to know it was their last or at least near to last. All songs by Barry Gibb, Maurice Gibb and Robin Gibb except where noted. "Intro: You Should Be Dancing/Alone" - 5:47 "Massachusetts" - 2:32 "To Love Somebody" (Barry Gibb, Robin Gibb) - 3:10 "Words" - 3:27 "Closer Than Close" - 3:30 "Islands in the Stream" - 3:47 "(Our Love) Don't Throw It All Away" (featuring Andy Gibb) (Barry Gibb, Blue Weaver) - 3:52 "Night Fever/More Than a Woman" - 3:26 "Lonely Days" - 3:44 "New York Mining Disaster 1941" (Barry Gibb, Robin Gibb) - 2:15 "I Can't See Nobody" - 1:30 "And the Sun Will Shine" - 1:54 "Nights on Broadway" - 1:05 "How Can You Mend a Broken Heart?" (Barry Gibb, Robin Gibb) - 3:27 "Heartbreaker" - 1:05 "Guilty" - 2:21 "Immortality" (featuring Celine Dion) - 4:46 "Tragedy" - 4:28 "I Started a Joke" - 2:48 "Grease" (featuring Frankie Valli) (Barry Gibb) - 2:43 "Jive Talkin'" - 4:19 "How Deep Is Your Love" - 3:54 "Stayin' Alive" - 3:59 "You Should Be Dancing" - 4:12 NOTES about the film: 1 The album's title was originally meant to reflect the band's plan that the Las Vegas concert would be their final live performance EVER. 2 Barry Gibb's arthritis had worsened to the point where it seemed it would be impossible for him to continue playing, but he wanted to expand the tour and so they played several more shows. 3 Steve Gibb, Barry's son, plays backup guitar on stage and is introduced at the end of the concert by Maurice Gibb. PersonnelBarry Gibb - Guitar, Vocals Maurice Gibb - Keyboards, Guitar, Vocals Robin Gibb - Vocals Matt Bonelli - Bass Stephen Gibb - Guitar Alan Kendall - Lead Guitar Steve Rucker - Drums Ben Stivers - Keyboards John Merchant - Off-Stage Keyboards Celine Dion - Vocals on "Immortality" Andy Gibb - Pre-recorded vocals on "(Our Love) Don't Throw It All Away" Frankie Valli - Pre-recorded vocals on "Grease" DVD Audio tracks are in three formats: Stereo Dolby Digital at 192Kbps 5.1 Surround Dolby Digital at 448Kbps 5.1 Surround DTS at 768Kbps Recorded November 14, 1997 at MGM Grand, Las Vegas Length 77:59 Label Polygram/Reprise Records(re-release) Producer Bee Gees [img]http://img.youtube.com/vi/PNz-iR_f2QI/0.jpg[/img] Only one now is living shown here, the one on the right
monsieur rick
Bee Gees, The - One Night Only Quotes
There are no approved quotes yet for this movie.
Discussion Forum
Discuss Bee Gees, The - One Night Only on our Movie forum!