Beetle Queen Conquers Tokyo
(2009)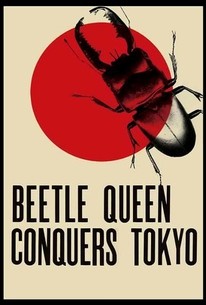 Beetle Queen Conquers Tokyo Videos
Beetle Queen Conquers Tokyo Photos
Movie Info
What is it about the Japanese and bugs? Inside a Tokyo pet shop, a little boy delights in selecting his new pet, a rainbow beetle costing $57.00. Japanese aesthetics -- whether textiles, architecture, gardening, graphics, brush painting or haiku -- all reflect a highly refined appreciation for both the diminutive and the transient. Beetle Queen explores the world of Japanese insect-lovers, from the sublime--families who visit the countryside to hear choruses of crickets or experience the yellow-green flashes of light emitted by thousands of fireflies to the ridiculous--beetle cartoon images that infest the zeitgeist.
Rating:
NR
Genre:
,
Directed By:
Written By:
In Theaters:
On DVD:
Runtime:
Studio:
News & Interviews for Beetle Queen Conquers Tokyo
Critic Reviews for Beetle Queen Conquers Tokyo
Audience Reviews for Beetle Queen Conquers Tokyo
Similar to the way that people collect coins or playing cards, the Japanese love to collect beetles of all different shapes and sizes. Some are quite ornate and lovely to look at it but I find it hard not to think that every beetle in the country has to have been captured to meet the high demand.
John Ballantine
Super Reviewer
½
As anecdotal, reductive, and repetitive a documentary that "Beetle Queen Conquers Tokyo" sometimes is(although you have to love that title), at the same time, there is a fine sentiment buried here about respecting nature, using Japan's blend of Shinto and Buddhist philosophy as a model. According to the documentary, this is why insects(even the creepiest and ickiest of them) are so widely accepted there. So much so, that the songs of crickets are enormously popular and an entrepreneur buys a Ferrari solely from the profits from capturing beetles for stores. Except it does not tell the whole story and is a prime example why bringing up the idea of national identity is to say the least, wrong. If you don't believe me, check out "The Cove" about how some Japanese fishermen have a total lack of respect for nature. So which picture is right? Both? Neither? Just remember that this is a complex world we live in.
Contrary to its B-Movie title, Beetle Queen Conquers Tokyo is actually an engaging documentary about Japanâ(TM)s fascination with all things insect. Juxtaposing images of beetle hunters, cricket keepers, entomologists, insect markets and adorable squealing children who keep pets of the squirmy variety, Director Jessica Orek draws us into a culture where every living creature â" even the tiniest one â" is equally important. I admit: some of the larvae close-ups gave me the wigs (donâ(TM)t even get me started on the Ferrari-driving dude who supplements his sake with WASPS! And then drinks! IT!), but thereâ(TM)s also plenty of beauty to look at: dragonfly wings, fluttering butterflies, and crickets chirping happily. I enjoyed it, even if it didnâ(TM)t exactly convince me that I need to keep anything other than furry, four-legged creatures in my house.
Amie Simon
Beetle Queen Conquers Tokyo Quotes
There are no approved quotes yet for this movie.