Begotten
(1989)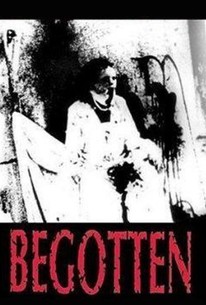 Movie Info
Though technically and visually quite unusual, reviewers found this artsy black-and-white "mythodrama," which features repeated disembowelments, unappealing in the extreme. In the story, a god uses a knife to mutilate himself, and dies. A woman comes along, and recognizing his godhood, uses his corpse to get pregnant, and gives birth to a son. The son and she are captured and disemboweled by a nomadic tribe.
Critic Reviews for Begotten
Audience Reviews for Begotten
At last, a film for people who found "Eraserhead" too commercial. This underground horror relic starts with a twitching God figure disemboweling himself and giving birth to a full-grown woman (credited as "Mother Earth"). She returns the favor by bringing him to orgasm and manually impregnating herself with his semen. From there, the story takes a strange turn. Features include abduction, rape and various ritualistic activities that defy interpretation. The plot has been described as a retelling of the creation myth, but trying to follow a linear story is purely optional. Suffice to say, this a great movie if you're a fan of convulsions. There is no dialogue, and the soundtrack is an alien mix of birds, crickets, flies, low drones and what sounds like the ambient splashes of a toilet tank. The visual look of "Begotten" is impossible to forget. Its gritty, black-and-white texture was apparently created through shooting with reversal stock and then re-photographing each frame for an extra layer of distortion. Often, it's difficult to tell what is happening and the image approaches pure abstraction. It's a relief that this film is only 78 minutes, because further length would defy almost anyone's endurance. Surprisingly, director E. Elias Merhige went on to craft the considerably more accessible (if equally macabre) "Shadow of the Vampire."
Eric Broome
Super Reviewer
½
God takes the shape of a woman and guts herself with a scalpel while breathing like Michael Myers then shits herself and we get to watch shit run down her leg for 3 minutes? how the hell could the world's most gifted filmmaker possibly show a scene after that and shock us?
Coxxie Mild Sauce
Super Reviewer
God disembowels himself with a straight razor, among other metaphysical atrocities in this nearly narrativeless 70 minute experimental feature where each frame of film has been painstakingly transformed and distressed to create a starkly beautiful chiaroscuro universe. A very hard film to rate; a successful, if painfully overlong, visual experiment, but the overall effect is almost the opposite of entertainment.
Begotten Quotes
There are no approved quotes yet for this movie.