Behave Yourself
(1951)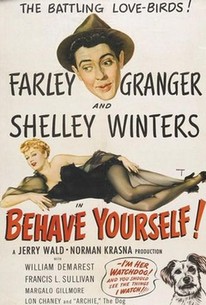 AUDIENCE SCORE
Critic Consensus: No consensus yet.
Movie Info
One of the oddest comedies of the 1950s, Behave Yourself! stars Farley Granger and Shelley Winters as a pair of none-too-bright newlyweds. Granger and Winters adopt a stray pooch named Archie, who unbeknownst to them has been trained as a go-between for a couple of underworld gangs. To the ever-mounting amazement of our hero and heroine, corpses begin to pile up all around them as one gang endeavors to rub out the other during a million-dollar smuggling operation. While it's quite possible to treat murder as a farcical situation-remember Arsenic and Old Lace?--the killings in this film are sometimes too graphic to induce laughter (there's nothing terribly mirth-provoking about gang flunkey Hans Conried lying dead in a bathtub with a bullet hole between his eyes). Another detriment is the casting of Granger and Winters, both of whom are woefully unsuited to their roles. In fact, such veteran villains as Lon Chaney Jr., Sheldon Leonard, Francis L. Sullivan and Elisha Cook Jr. come off funnier than the stars! The film's best sequence occurs during the closing cast credits, so try to stick around after the "THE END" title. Behave Yourself was the first coproduction between Wald-Krasna Productions and RKO Radio.
Rating:
NR
Genre:
, ,
Directed By:
Written By:
In Theaters:
On DVD:
Runtime:
Studio:
RKO Pictures
Audience Reviews for Behave Yourself
Here is good fun with an all-star cast of bad guys and the ever charming Farley Granger and Shelly Winters.
william barkley
½
Silly piece of fluff with an awfully high body count for a comedy.
Never Give Pets as a Gift It seems in stories like these that the first problem is living with your spouse's parents. I can certainly agree that it's not usually a good idea, and it's important to establish boundaries right away. This is one of two movies I can name where someone's mother interrupts the character's anniversary plans with the character's husband, and it tells me a great deal that the character would stand for it. In this case, the character in question needs to get out from under her mother's roof because she'll never get out from under her mother's thumb if she doesn't. I can understand living with a parent if you or the parent need some kind of support, but it just seems here as though the mother knows she'll only be able to control her daughter so long as they share a house. It also seems as though the relationship between mother and father was so toxic that the mother can't picture any other kind. Which is a lot more background than the movie really needs. At any rate, Bill Denny (Farley Granger) has forgotten his wedding anniversary. Again. His mother-in-law (Margalo Gillmore) expects nothing better of him, and she's pretty well got her daughter (Shelley Winters) convinced that he's a Horrible Person because of it. So Bill goes to buy Kate, his wife, a fancy nightgown. However, a dog has followed him into the store and is smashing things up. They assume it's his dog, take his money, and throw him out of the store. He starts trying to come up with a dodge to explain the whole thing, but the dog has followed him home, and Kate assumes it's her anniversary present. Only it's a trained dog--Albert Jonas (Elisha Cook, Jr.) was supposed to walk it along Wilshire Boulevard, where it would find a person who's supposed to trade money for some stuff called scag. (I don't think we ever find out what it actually is.) Hilarity ensues. Also a rather alarming body count for a light comedy. Once again, I am a little too proud of myself for having noticed a plot hole, and once again, IMDB mentions it as well. Namely "walk along Wilshire Boulevard"? I mean, this is Los Angeles. You don't have to know that it's the Los Angeles Union Station at the beginning (though I did). There's only one Wilshire Boulevard that I know of. It's the one in Los Angeles. Or anyway the one that mainly runs through Los Angeles, because it also runs into Santa Monica, not technically part of the city. All told, it's sixteen miles of very busy street. If there's any part of Wilshire that's narrower than four lanes, I'd be surprised. So that's a heck of a walk in search of scag, because you'd have to go along both sides to be sure you didn't miss your contact somewhere along there. I mean, no cross street? Not even odd side/even side? I realize they want to give the person as little information as possible, so they can't tell the cops anything, but still! The wackiness of this movie kind of grated after a while. I don't know; maybe there's something about Shelley Winters. She was a fine, talented actress, but there's a certain nails-on-chalkboard quality to her voice. And okay, one or two unexpected mobster deaths, okay. And the first time Bill left his card at what turned out to be a crime scene, fine. But the second time was a little forced, and you'd figure the police would start keeping an eye on the guy just to keep track of dead gangsters. It's true that people can be weird about their pets, but when the dog stole lamb chops described as being $1.99 a pound--in 1951--that's where you expect the owner to stop thinking the dog's every action is adorable. I get that it's the stereotype that women's mothers distrust and dislike their daughter's husbands, but Kate's mother was a little too willing to accept the worst in her son-in-law. She's perfectly willing to believe that he's a murderer. To say that she'd known it all along. But she did, after all, live with him of her own free will. I must admit that I was able to see certain details of my own life in the movie, minus the mobsters thing and the mother-in-law. But people do get weird about their pets, and Graham doesn't much care for my cat. Though D has gotten in trouble for stealing far, far less than $1.99 lamb chops. (Poking around online also shows that, with inflation, that's now $16.52 a pound, more than we spend on practically anything.) It's also true that I have a certain amount of frustration toward the fact that Graham doesn't buy anniversary presents for me. Though there's also resignation to that. Still, I think you get used to things after a while unless you have someone who's pressuring you not to, and I found myself thinking that, if the Denny marriage fell apart, it wouldn't be because of Bill or Kate or even Archie, the dog. It would be because Kate's mother couldn't leave well enough alone. Though it's the outcome she seems to want anyway.
Edith Nelson
Behave Yourself Quotes
There are no approved quotes yet for this movie.
Discussion Forum
Discuss Behave Yourself on our Movie forum!