Behemoth
(2010)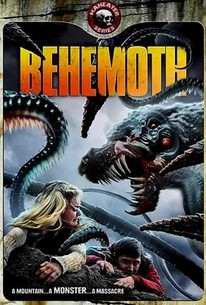 AUDIENCE SCORE
Critic Consensus: No consensus yet.
Movie Info
Ed Quinn stars in this horror film about a group of scientists investigating volcanic activity who discover a giant monster capable of destroying mankind.
Rating:
NR
Genre:
,
Directed By:
Written By:
On DVD:
Runtime:
Critic Reviews for Behemoth
There are no critic reviews yet for Behemoth. Keep checking Rotten Tomatoes for updates!
Audience Reviews for Behemoth
For a made for TV movie, was actually pretty good. Good build-up, well acted, some real suspense and a creature that wasn't too cheesy.
Joe Moran
½
Behemoth is a great TV movie. Decent acting and a load of intense action. The movie has a few flaws, though its hard to find one that doesn't.
jason hornsby
½
Our twenty-first Maneater movie is Behemoth.And it has one of the most perplexing plots of the Maneater movies.Yet it's also one of the best of them.Now the monster isn't what you'd expect it to be.The plot is that there is this monster that has been living UNDER Earth and awakens and causes lots of destruction.Now a little "spoiler" is that the thing doesn't reveal itself right away.According to Wikipedia,it's at the 73 Minute mark it does,but I wasn't keeping track of time.Before that,it's tentacles that cause mayhem.Or what I'd be willing to call tentacles.Now,like I said,the monster isn't what you'd expect it to be.It's an ENORMOUS monster.That's all,it's a huge fucking ass thing that is the best of all of the Maneater monsters.It is incredible.Anyway,we'll get to that in a little.The plot is good,that's all I can say since it's just really what you'd expect a Maneater movies plot to be.I also give credit to the pacing,it's pretty good too.With that,the plot passes with no complaints. The acting is pretty nice.It's nothing special,but I can't ask for much more,or we may have Gryphon's acting on our hand (which we do not want at all!).Putting Gryphon aside for a little,the acting is nice,don't get me wrong.But it could have been better,which they fixed in Ferocious Planet.My point is the fact as the end gets closer,the more the acting begins to turn into laughable,which still keeps the movie afloat,but makes me disappointed I can laugh and not keep a straight face.Now by the end of the movie,you're going to be laughing at least once.Maybe disappointed if you're a fan of the Maneater movies like me.Now,let's just put that side and ignore it.The acting is still kinda shallow,even without the slowing turning laughable acting.To be honest though,the acting is still nicely done.This is more of a pet peeve,so I won't take a point off.Over all though,the acting passes. The thing I didn't like is,of course,the directing.It's a bit hard to follow at times.Shaky or close up.It gets pretty annoying,and eventually began to tick me off.After a while,I just gave up on trying to think of ways to ignore how annoying this thing can get.It's far from the worst directing,but of all of the good Maneater movies,Behemoth has the worst of them all.It doesn't help that when you finally see the Behemoth,despite getting a good shot of it,the thing takes up almost all of the camera picture.Seriously,the thing is so huge that it engulfs a lot of the camera.The bottom of the directing is simple.It just flat out sucks,and irritated me to death.I got ticked off with it way to quickly.It tries to hard to be good too.Over all,directing is bad.Which isn't a surprise considering it took a long time for it to be good. The characters are developed nicely.They're as good as the good Maneater movies are usually.They're good in every aspect expect for the fact you,of course,lack sympathy.Though in Behemoth,there is a little sympathy to be had.Like in Sand Serpents! You can feel a little bad when a character you liked died.The Behemoth though,it's not the good guy in this movie.The thing can literally destroy all life,so it really is the bad guy.Which is cool,since it's almost always the monster you root for.In here,I really didn't root for it,I wanted them to kill the thing as quickly as possible.I did not wanna see Earth go bye-bye.The only problem with the characters is that they aren't in any real danger that often.Tentacles get old kinda quick (or whatever they are).None the less,the characters pass very well! The dialogue is decent.It could be better,but it's not bad.The development is good and the normal dialogue is good.It's when they're in danger that the dialogue becomes a little corny.The way it's delivered (and written) is really corny and pretty laughable.Consider it good or bad,but I'd expect more out of you Behemoth! Don't become lame,we know you could have done that better.Joking aside (well,it could have done better in terms of that),that's the only time the dialogue is "bad".The small talk isn't that bad and the rest of the movie is pretty brisk in terms of dialogue.I can't find much else to either praise or rant about,so over all,the dialogue is decently written and delivered.But when there in danger,it becomes corny,but at least not really corny to the point it sucks.The dialogue passes. The CGI on the Behemoth's tentacles is nicely done.But it's the whole thing itself that's incredibly well done.The entire Behemoth is gigantic,and the whole thing itself is fantastic! With something this big,I woulda expected less,but it's pulled off fantastically.The tentacles on the other hand aren't as good.There nice,don't get me wrong,but they feel a little rushed and/or lame at times.I can forgive it for that,but I wish there was more to them than just sorta popping up and disappearing.Make it look like they do pop up and disappear,and not just pull a magic trick.Did they spend so much time on the entire thing that they forgot about the tentacles? Never the less,the CGI is fantastic on the whole thing,but not as good when it comes to the tentacle things.The CGI passes easily though. Over all,Behemoth is a disappointment in some aspects,but really good in others.The directing,acting is a few ways,and CGI on the tentacles could be better.However,everything else about the movie is good.What it all boils down to is you like it or you hate it.In this case,I found Behemoth to be good,but I wish it was a lot more.I recommend Behemoth if you want some dumb fun,but other than that,you're going to be disappointed in it quite a bit.I score Behemoth a 7 out of 10.I expect more from RHI and Sy-Fy after Carny.Though the next Maneater movie was everything I hoped Behemoth would have been.Which I must say,is really awesome when you consider it's not really a monster.
Chris Skoufis
Behemoth Quotes
There are no approved quotes yet for this movie.
Discussion Forum
Discuss Behemoth on our Movie forum!