The Being
(1983)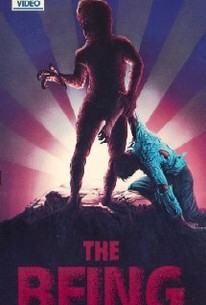 AUDIENCE SCORE
Critic Consensus: No consensus yet.
Movie Info
Director Jackie Kong, who later made the cult favorite Blood Diner (1987), directed this terrible monster movie for exploitation pioneer Bill Osco, who stars under the pseudonym "Rexx Coltrane." The plot concerns a mutant child who has become a monster after being exposed to toxic waste in a small Idaho town. Mortimer (Osco) wants to investigate a series of disappearances, only to have his efforts stymied by the town's mayor (José Ferrer), who is worried about the potential economic impact on the local potato industry. This abysmal horror film was made in 1980 and shelved for three years despite a cast which includes Oscar winners Ferrer and Dorothy Malone, Martin Landau, and Kinky Friedman. Other featured performers are Ruth Buzzi, Murray Langston ("The Unknown Comic"), and Kenny Rogers' wife (at the time), Marianne Gordon.
Rating:
R
Genre:
,
Directed By:
Written By:
In Theaters:
On DVD:
Runtime:
Studio:
BFV
Critic Reviews for The Being
All Critics (2) | Fresh (0) | Rotten (2)
A weak 80s monster flick with Martin Landau of all people.

Grungy, muddy-looking, and completely beholden to Alien for all its money moments, The Being is Z-grade schlock-slinging at its most obvious.
Audience Reviews for The Being
½
A film that is not even close as bad as everyone makes it out to be. This film is part schlock, part horror, and part comedy and it does pretty well balancing them all without the whole film falling apart. Though it's not even close to being perfect its screwball nature and occasional atmosphere win out. Some scenes are so bad that they're good, other are hilarious, and others are chilling, and creepy. The score is occasionally silly but it knows how to get the job done in the suspense scenes and actually enhances them. In short a good but far from perfect horror film.
Hayden Larsen
hey; since CHAS. BALUN would have given THE BEING a 100%, I'll be "The One" to give it a 100% since CHAS. BALUN (who taught me almost everything [not really] I know about horror movies) is no longer with us. In HORROR HOLOCAUST, CHAS. wrote that THE BEING is one of his favorite films but said he couldn't really explain why. I can't explain why THE BEING would be anyone's favorite film either. It starts out with an intriguing voice-over and then some kid trying to escape some "being" who proceeds to rip-off his head (the kid is driving a car at break-neck speed then meets a dead-end and the BEING clasps the kid's head from the back-seat and TEARS . . . (that's about the only thing with any continual-logic I remember happening in The Being) There's an Easter Egg hunt where another "smaller BEING" is in one of the "egg-holes" but is too small to catch the little girl looking for the Easter Egg. anyway: in HONOR of CHAS. BALUN (from DEEP RED MAGAZINE and affiliated somehow with SHAWN SMITH'S BLACKEST HEART MEDIA) THE BEING is 100% (although neither Mr. Balun nor myself can explain why). DIRECTED BY JACKIE KONG . . . the same babe who went on to direct NIGHT PATROL . . . no wonder THE BEING is a 100% Fresh Movie: . . . because its directed by JACKIE KONG!!!!!!! duh. (just kidding) -- Let me re-explain the importance of CHAS. BALUN. Back in 1982 and 1983 "THE 'WORLD' OF FILM CRITICISM" "belonged to" SISKEL & EBERT, RICHARD SHEIKEL, CARRIE RICKEY, PAULINE KAEL, GENE SHALIT . . . bacically there were "only" 20 major film critics in the entire country (ha ha ha ha) --I know there were many more film critics than twenty; but 20 seemed to be the number (JEFFERY LYONS, MICHAEL MEDVED, LEONARD MALTIN, PATRICK STONER, STEVE FREEMAN are some of the other 20 Film Critics (whose opinions actually mattered in 1982-3.) Back Then, when one of the "20 Critics" gave a film a "Bad Review" the other 19 Film Critics would follow--sometimes there'd be a "SPLIT" (between SISKEL & EBERT). When THE EVIL DEAD came-out here in AMERICA around Novemember 1982, only SISKEL & EBERT seemed to be the ONLY critics even to admit that there was such a film entitled THE EVIL DEAD that was released in 1982: SISKEL & EBERT "CROWNED" THE EVIL DEAD as their "SKUNK OF THE WEEK" and only spent around 3 MINUTES saying how "irredeemably bad" THE EVIL DEAD was and that the only scene they could show us was the scene with the house bleeding. NONE of the other 18 critics seemed even to notice that THE EVIL DEAD even existed, except for some MIND-BLOWING ARTICLES and PICTORIALS in FANGORIA #23--I'd never seen such a HUGE amount of GORE and BLOODY MAYHEM in one photo-spread until FANGORIA #23; To be honest, I didn't think it was really possible that any one movie could have the level of CARNAGE contained in the FANGORIA #23 photo-spread of THE EVIL DEAD (I usually believe everything--but the gruesome pictures in FANGORIA that month were "hard to believe") NOW CHAS. BALUN: in a FANTACO ADVERTISEMENT in FANGORIA (maybe, issue 26 or 27), there was this book advertised: A CONNOISSEUR'S PICTORIAL GUIDE TO THE HORROR FILM by CHAS. BALUN. MY Dad wrote the check with my allowence money and 3 weeks later "this 'little, tiny self-published' book arrived in the mail." WHERE ARE "THE OTHER" DICKHEADED FILM CRITICS (no offense) totally shunned, scorned, and condemned THE EVIL DEAD and here was this guy (CHAS. BALUN standing in front of a ZOMBIE poster looking like "THE GRATEFUL DEAD" with a large knife held-up to a kitten's neck), TOTALLY "going-into" EVERY CONCEIVABLE DETAIL of THE EVIL DEAD and about a hundred other obscure films (in a very intelligent and compelling manner). CHAS. BALUN saw LIGHT and WORTH in films that the other critics totally cast-off as trash! I wouldn't have the 32 THOUSAND VISITORS and some 6000 MOVIE POSTERS in my slide-shows in my RT PROFILE had it not been for CHAS. BALUN. 32,000 people is a lot of people (so my shows must be alright sometimes at least). THERE'S no other like CHAS. BALUN who could TRULY SEE "THE VALUE" in obscure film. Of course there are TIM LUCAS and --DAVID SKAL and GREGORY MANK who are still with us --BUT it was CHAS. BALUN'S self-published "WORK" on horror films THAT DID IT for me!!!!!!! and, you know why CHAS. BALUN had to self-publish is first couple of books? BECAUSE CHAS. BALUN championed films that "normal," "average," HISTRIONIC "BULLSHIT" critics ignored. AND man . . . only a very few people truly dig horror films like CHAS BALUN did. you know, even THOSE GUYS at Exhumed Films said BLACKEST HEART MEDIA (which basically "was" CHAS. BALUN [and SHAWN SMITH]) SUCKED!!!!! BLACKEST HEART MEDIA (consisting of SHAWN SMITH, SAGE STALLONE, and CHAS. BALUN) was THE ONLY ONE who "GAVE US" the CANNIBAL FEROX laser-disc Edition and GRINDHOUSE RELEASING . . . And here you are having EXHUMED FILMS saying BLACKEST HEART MEDIA "SUCK." how can one HORROR outfit say another HORROR outfit SUCKS? CHAS. BALUN'S (and BLACKEST HEART MEDIA) THE MAN. . . . now it seems that THE ALAMO DRAFTHOUSE is "where its at"
Gordon Terry
[i]Starring Kinky Friedman, Martin Landau, Ruth Buzzi and Jose Ferrer. Directed by Jackie Kong. Rated R. [/i]"Oh, the humanity!" What other phrase could possibly describe [i]The Being[/i]? "The first horror movie shot in Idaho." Yeah, that might be the only other one. Wait... ah yes, one more. "Total shit". A throwback to the cautionary sci-fi tales of the 1950s, [i]The Being[/i] attempts to recapture that genre's combination of ecological warnings with creepy creatures. Unfortunately, it offers nothing new to the mix. Not that there's anything wrong with that, so long as the movie in question is competent. [i]The Being[/i] isn't competent, it's laughable. Consider the plot for a moment. Nuclear waste dump spawns toxic creature. The town's sycophantic mayor refuses to recognize the danger, preferring to cover the mess up. Our brave sheriff goes on a thankless crusade to stop the monster, aided by an expert in environmental science. Substitute a few elements, and this is essentially the plot of [i]Jaws[/i] dipped in nuclear sludge, with a monster even less convincing. Bruce the Mechanical Shark was driven by hydraulics. [i]The Being[/i] is lucky to have afforded itself a shopping cart. What is the Being, anyway? Hard to say, because half the movie is lensed in total darkness. At times it looks like a man in a rubber suit, with a head that strongly resembles a super-sized Vlasic pickle with teeth. We learn along the way that the Being can also assume a liquid form to avoid detection, which is perhaps the film's single interesting idea, even if it's not a scary one. No mention of this movie should be made without discussing the sheriff character, played by Kinky Friedman. Yes, **the** Kinky Friedman, the colorful Texas libertarian currently considering a run for governor in the Lone Star State. His character is named Mortimer; hardly what I consider a manly moniker. Considering that the Being opens a can of Idahoan whupass on old Mort in the last twenty minutes of the film, most viewers will probably find themselves in agreement. [i]The Being[/i] also stars Martin Landau, Ruth Buzzi, and Jose Ferrer. Three great actors who were either in search of a paycheck, or got bored in Idaho and decided to make this hilariously awful movie to find relief. All of them should be ashamed of themselves, and I'd pay $100 if a pundit casually mentioned [i]The Being[/i] to Kinky the next time he gives an interview on MSNBC. Knowing him, I still don't think he'd be too offended.
Eric Smith
The Being Quotes
There are no approved quotes yet for this movie.