Bela Lugosi Meets a Brooklyn Gorilla
(1952)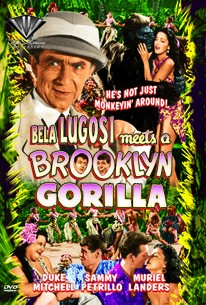 AUDIENCE SCORE
Critic Consensus: No consensus yet.
Bela Lugosi Meets a Brooklyn Gorilla Photos
Movie Info
Bela Lugosi plays a mad scientist in the jungle who stumbles across a couple of comedians (intended to resemble Dean Martin and Jerry Lewis) and proceeds to use them as lab mice in his experiments.
Critic Reviews for Bela Lugosi Meets a Brooklyn Gorilla
Audience Reviews for Bela Lugosi Meets a Brooklyn Gorilla
½
Duke Mitchell and Sammy Petrillo are the two greatest Martin and Lewis impersonators to ever appear in a Bela Lugosi film.
Richard May
½
As much as people say this was bad, I found it actually good. I mean, of course, it's silly, the character of Sammy Petrillo is a bit annoying at times, but overall I thought it wasn't that bad. The plot is a bit strange: Performers Duke and Sammy (made to resemble Jerry Lewis and Dean Martin) get stranded on an island, but it isn't as bad as it seems- there's hot (and not so hot) girls and luaus. However, Duke and Sammy meet the mysterious Dr. Zabor (Bela Lugosi), who is jealous of Duke and the Chief's daughter, Nona,'s romance, so he concocts a scheme to turn Duke into a gorilla, but people can't save Duke for 2 reasons: they think he is another chimp, Romona- and two, he can't talk- but can sing. Okay, it wasn't a fantastic movie. It's just that people say this movie was one of the worst, and I don't truthfully think that. It was a bit silly at times, but I like silly, but some parts were over the top. The only thing really painful to me was Duke Mitchell's singing. It was really terrible, too much shakyness in his voice ruined the movie's songs, but the comedy and writing wasn't bad. The storyline- okay, a little strange, but the title just means that Duke is, well, a gorilla who used to be from Brooklyn. I would suggest it, it wasn't bad, but not the best movie ever.
Jordan Krampf
While I'm sure I've said this more than once, this might be the worst movie I have ever seen. It makes me want to strangle every single person who had any sort of hand in its creation. I will give Lugosi a smidgen of credit, as he does sort of try a little bit. Mitchell and Petrillio's ultra-lameo rip-off of Martin and Lewis ranks as one of the most pathetic duo performances of all time. Seriously, its just ridiculous even to a seasoned crappy movie veteran. Its so bad that its not even enjoyable in its badness. Just an hour and 15 minutes closer to death. Actually, death might be preferable to watching this again.
Julian Toepfer
Bela Lugosi Meets a Brooklyn Gorilla Quotes
There are no approved quotes yet for this movie.
Discussion Forum
Discuss Bela Lugosi Meets a Brooklyn Gorilla on our Movie forum!