Belka i Strelka. Zvezdnye sobaki (Space Dogs 3D)
(2011)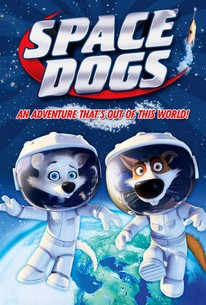 AUDIENCE SCORE
Critic Consensus: No consensus yet.
Belka i Strelka. Zvezdnye sobaki (Space Dogs 3D) Videos
Belka i Strelka. Zvezdnye sobaki (Space Dogs 3D) Photos
Movie Info
A talented circus dog, a scrappy canine from the streets, and a fun-loving rat blast off on a journey into the stars in this animated family-oriented comedy based on the real-life adventures of Belka and Strelka, two dogs from the former Soviet Union who in 1960 became the first earthbound animals to orbit the Earth, and return home alive. When her circus act goes awry, four-legged circus performer Belka comes crashing down to Earth in her homemade rocket. That fateful accident marks the beginning of an enduring friendship with street-smart dog Strelka, and wise-cracking rodent Venya. Later, the fun-loving trio and some new friends board a rocket bound for orbit, and make history by proving that mankind has finally perfected the technology to explore space. ~ Jason Buchanan, Rovi
Rating:
G
Genre:
, ,
Directed By:
Written By:
On DVD:
Runtime:
Studio:
Audience Reviews for Belka i Strelka. Zvezdnye sobaki (Space Dogs 3D)
We could have been fur balls but we said NO! Strekla and Belka are two orphan dogs selected for the Russian space program. They have very different backgrounds. Strekla is a former circus dog that has been separated from her troop and wants to find her way back. Belka lost his father and was told he resides in the stars. Despite their different backgrounds, they hope to work together to achieve their goals. "We'd like to know what happens to the ones not chosen." "The less you know the better you are." Inna Evlannikova delivers Space Dogs in her directorial debut. The storyline for this picture is pretty interesting. The subplots of each dogs is fairly unique and interesting and the direction of the film is very unpredictable. The animation is fairly good and the voices are well selected. "My father really does live in the stars...and I'm gonna find him." I came across this film while scrolling through animated pictures on Netflix and decided to give it a shot since my daughter has a recent love affair for dog movies. I found it interesting but not gripping. It should have been gripping since it contained such wonderful sub plots; but unfortunately, there wasn't enough drama for my liking (it didn't feel dramatic despite the compelling back stories). Overall, this is worth a viewing but not worth adding to your DVD collection. "You can't just come into our hood uninvited." Grade: C+
Kevin Robbins
I have not seen the original Russian language version of this film. Though I would like to with English subtitles. This was a very well made and fun animated feature based on the real life Belka and Strelka who were the first canines to survive orbit. From a technical aspect the animation is what one would expect from an independent studio yet what this film lacks in technical sophistication it makes up in story and heart. Also one shouldn't get too caught up is some of historical incongruities either and just have fun.
Jonathan Phaup
Belka i Strelka. Zvezdnye sobaki (Space Dogs 3D) Quotes
There are no approved quotes yet for this movie.