Belladonna of Sadness (Kanashimi no Beradona)
(1973)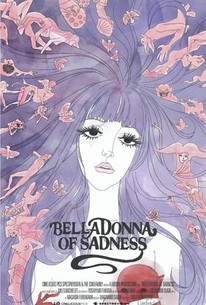 TOMATOMETER
AUDIENCE SCORE
Critic Consensus: Belladonna of Sadness has more than enough brilliant visual artistry to keep audiences enraptured even as the film's narrative reach slightly exceeds its grasp.
Belladonna of Sadness (Kanashimi no Beradona) Videos
Movie Info
This well-crafted Japanese animated feature adapts the novel Belladonna by Jules Michelet in a unique manner. The story concerns a love affair, taking place in the Middle Ages, shadowed by witch-trials and the Inquisition. The actual moments of the story are shown in more-or-less still tableaux, but the inner thoughts and feelings of the characters are fully animated. ~ Clarke Fountain, Rovi
Critic Reviews for Belladonna of Sadness (Kanashimi no Beradona)
Audience Reviews for Belladonna of Sadness (Kanashimi no Beradona)
This film has several things that made it of interest to me: stylish Japanese animation, a story containing a deal with the devil (I'm always a sucker for movies featuring the devil, don't ask me why), and a director who was certainly not shy about showing nudity and sex (ok, I'm probably a sucker for those too, if they're done right anyway). Unfortunately, the movie doesn't live up to its potential, or perhaps, hasn't aged well. While some of the artwork is beautiful, the plot is simple, plodding along during slow right-to-left pans, and far too often using sex as a crutch. We see the devil having sex with the woman several times, lots of phallic imagery and big boobs, and a bizarre, surreal orgy in the woods featuring people, animals, and half-people/half-animals. It just gets to be a little much, and is definitely written/conceived/drawn from an immature male perspective. It's a shame that such a weighty theme and Faustian premise was so poorly handled. I also have to say that the scenes in France at the end are ridiculous, almost as if someone had an incoherent thought while high. Maybe if you were drunk or on an acid trip watching this film in college with your guy buddies in the 70's or 80's, you would love it. Otherwise, you can enjoy it for a window into what feels like 1960's psychedelia, some of its pretty animation (particularly in the first part of the film), and for it presumably having pushed boundaries in Japan at the time.
Antonius Block
Super Reviewer
½
"Belladonna of Sadness" is an unusual fable of sexy, psychedelic animation, perfectly suited for the '70s midnight-movie circuit. The beautiful, leggy Belladonna lives in the middle ages, stuck in a backward world of sexism, unfair taxation and witch hunts. A gang rape ruins her new marriage, and she ends up a fugitive, crossing over the dark side while guided by a mystical demon who's literally shaped like a penis. But the story hardly matters, because the animation is everything. The delectable Belladonna is nude throughout most of the film, making Jessica Rabbit look like Ursula in comparison, and the hallucinatory imagery is full of vaginal references. A sequence depicting the apocalyptic rise of Black Death is especially mindblowing. But this is not the sort of animation that the Western world knows - backgrounds are usually left white, and many scenes take the shortcut of simply panning around a still drawing. Meanwhile, a breathy Japanese chanteuse memorably dominates the musical score. Unforgettable!
Eric Broome
Super Reviewer
while it does have a lovely watercolor aubrey beardsley sort of animation style, the story is rather ridiculous, mostly consisting of jeanne being chased by various phallic symbols while her clothes keep falling off. if this is supposed to be some kind of feminist statement i'm not buying it. obviously women in control of their own sexuality are witches
Stella Dallas
Super Reviewer
Belladonna of Sadness (Kanashimi no Beradona) Quotes
There are no approved quotes yet for this movie.