Beloved
(2012)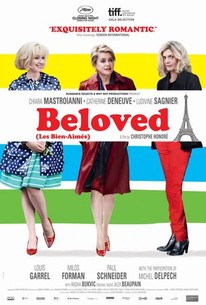 Movie Info
In the freewheeling Paris of the '60s, young Madeleine (Ludivine Sagnier) - who has gone from selling shoes to sleeping with men for money - falls for a handsome Czech doctor, Jaromil (Rasha Bukvic), who she soon marries and joins in Prague. A baby daughter is born, but Jaromil's infidelities and the arrival of Russian tanks in Prague leaded Madeleine back to France - though the love between them still burns. Thirty years later in London, we follow Madeleine's daughter, Vera (Chiara Mastroianni), who has fallen in love with a musician (Paul Schneider) who is incapable of devoting himself to her, while her ex (Honore regular Louis Garrel) still pines for her. Meanwhile, in Paris, a re-married Madeleine (Catherine Deneuve) has rekindled her love affair with Jaromil (Milos Forman). -- (C) IFC
News & Interviews for Beloved
Critic Reviews for Beloved
Audience Reviews for Beloved
After being mistaken for a prostitute in 1964, Madeleine(Ludivine Sagnier) decides to make a living of it for real. She rationalizes at least that way she will not have to steal from her day job at a shoe store and risk jail in order to afford the finer things in life. Instead, she should be more forward thinking, considering the therapy her now-grown daughter Vera(Chiara Mastroiani) requires in her rootless life in a few decades. Vera is a product of a marriage between Madeleine and Jaromil(Rasha Bukvic), a Czech doctor, who takes her away from Paris and a life in prostitution right into the path of a Soviet tank. Like most of Christophe Honore's movies, "Beloved" is a work in frustration. However, it comes closer to being a success than his other maybe-sort-of-musicals. That's not because he fully commits to the genre for once or the songs being better but because of the emotionally precise performances of Chiara Mastroianni and Paul Schneider.(You have not lived until you have heard Paul Schneider sing in French.) But then Honore reaches too far, not realizing he does not have the skill or the focus to fully realize a multi-generational epic like this one. That just leaves it for the self-involved characters to wander the globe aimlessly.
½
Never enamored with the sobriquet "chick flick"; admittedly there are films that fall into that genre. "Beloved" garnishes a slot. It is French Marshmallow Fluff; vanilla, sickeningly saccharine, sentimental, sensational and I could not wait for it to be over. Spanning decades, Ludivine Sagnier as "Madeleine": young, vivacious prostitute who marries a "John" has a daughter, divorces; ingénue "Madeleine" matures into seasoned adulthood; Catherine Deneuve, still luscious, imbues the character with salty sinuousness, balancing her ex-husband (delightful depiction by Milos Forman) and present mate; she watches her adult daughter "Vera" (Deneuve's actual daughter, Chiara Mastroianni) fall tragically in love with a homosexual musician. The successful, subtle nuances between the two should have been capitalized upon; gracing the screen with compelling chemistry. "Beloved" is too ambitious, indecisive and flounders between monumental issues: infidelity, Russia's invasion of Czechoslovakia , AIDS, heartache, all set to music; the lyrics are hummable, recognizable and struggle to compliment the scenario, but only "aid" the melodramatic, meandering, predictable outcome. TWO & 1/2 STARS For Now.....Peneflix
Peneflix Movie Reviews
At least, it is Christophe Honore's come-back since the acclaimed . However, it is very apparent Honore has been repeating himself, from storyline, subject explored to narrative with music & songs, cast; & even this film itself. Narrative can be made much simpler, shorter & quicker rather than diverting into so many sub-plotlines & running in circle with so many back & forth, whilst what meant to be addressed remains obscure till the end. Though, the music department leading by Alex Beaupain (Honore's longtime sidekick in his filmwork) still helps a lot upgrading the film's level, once again.
WS Wu
Beloved Quotes
There are no approved quotes yet for this movie.
Discussion Forum
Discuss Beloved on our Movie forum!