Beloved/Friend
(1999)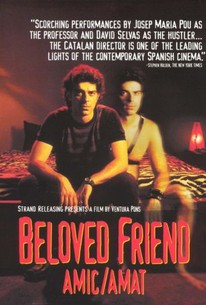 AUDIENCE SCORE
Critic Consensus: No consensus yet.
Movie Info
One of the most renowned directors of Catalan cinema, Ventura Pons explores the themes of aging, relationships and loyalties in a strong psychological drama which uses the will written by an ailing man as a catalyst for the true emotions of others to surface. Jaume Clara (Joseph Maria Pou), a professor of medieval literature, is getting old. Sensing that his time is near, he thinks back on his life and reflects on what he can leave behind for those he loves. He writes his will in essay form, loosely based on Ramon Llull's Book of Friends and the Beloved, and stores it in his computer. The reactions he provokes from the people involved are quite different than what he expected. His best friend Pere (Mario Gas) is disturbed by the will and thinks it must be Jaume's fear of death that has prompted him to write such a thing. David (David Selvas), his brightest student, refuses to be Jaume's heir at the expense of his freedom. Meanwhile, Pere is having family problems involving his wife and his daughter. Five people have to face up to the idea of Jaume's death, a painful process that does not spare anyone's feelings. As war breaks among the five, it is hard to know who are the winners and the losers. Pons weaves an intricate web of tragic relations and conflicts in this film, which was screened as part of the Panorama section of the 49th International Berlin Film Festival, 1999.
Critic Reviews for Beloved/Friend
All Critics (2) | Fresh (1) | Rotten (1)
What sets Beloved/Friend apart is the rigorous intelligence of its performances, script, and direction
Film Journal International
Audience Reviews for Beloved/Friend
½
[b]Your Friends & Neighbors[/b] ~ This Neil LaBute film benefits from an insightful screenplay (by Labute) that wittily and poignantly offers a contemplation of a set of failed relationships. The great ensemble cast which includes Ben Stiller, Aaron Eckhart, Amy Brenneman, Jason Patric, Catherine Keener, and Natasha Kinski bring their incredible talents to bare in this film. All six of these individuals are interesting characters who have become friends in some cases and lovers in others but probably shouldn't have. The film calls into question how much choice we have in picking our friends, suggesting that perhaps it's more than we think, but less than we would wish. It's more in the sense that by showing the results of choosing poorly, LaBute warns us to be more careful. It's less in the sense that most of the time you can't avoid becoming friends or falling in love with the wrong person; you'd don't know they're wrong for youuntil it's too late. LaBute's direction is spare and precise: he keeps the attention where it should be, and that's on his screenplay and on the actors bringing it to life. Excellantly paced and plotted, Your Friends & Neighbors achieves a kind of small "d" drama that flies under the radar but holds your interest from start to finish. [b]Amic/Amat (Beloved Friend)[/b] ~ This mediocre Spanish film tells the tale of an English professor on the brink of death in search of immortality. He thinks he finds it in a brash selfish student of his, who moonlights as a male prostitute. The film flounders because of an uninteresting B-plot surrounding a girl who gets pregnant by the brash student as well as generally pathetic characters whose lives aren't all that interesting. [b]Zus & Zo[/b] ~ This Dutch film takes up the subject of sibling rivalry as three sisters compete with each other and their brother for a hotel on the Portugese coast that their father left to them. The hotel is bequeathed to the brother if he gets married before he turns 33. This becomes a problem (and the source of the comedy) because he is gay and in a relationship with the host of a popular Dutch cooking show. The brother arranges a marriage of convenience and the movie is about the three sisters' attempts to prevent the marriage. The movie is funny enough for a 6/10.
Jerry Wysiwyg
Beloved/Friend Quotes
There are no approved quotes yet for this movie.
Discussion Forum
Discuss Beloved/Friend on our Movie forum!