Bending All The Rules
(2002)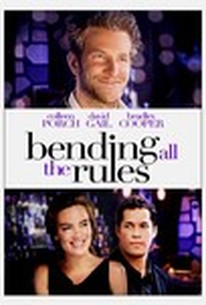 AUDIENCE SCORE
Critic Consensus: No consensus yet.
Bending All The Rules Photos
Movie Info
A free-spirited photographer juggles two handsome suitors while attempting to land her first gallery exhibition in this romantic comedy starring Bradley Cooper (The Hangover). Gorgeous Kenna (Colleen Porch) isn't the kind of girl who likes to make committments. When she lands her first gallery show, she vows not to get distracted by romance. But just as handsome DJ Jeff (Cooper) makes a play for her affections, high powered businessman Martin (David Gail) starts to turn on the charm, too. Later, as the romantic battle of wills heats up, the footloose shutterbug faces a difficult decision.
Critic Reviews for Bending All The Rules
There are no critic reviews yet for Bending All The Rules. Keep checking Rotten Tomatoes for updates!
Audience Reviews for Bending All The Rules
Holy Terrible Batman! LOW budget Bradley Cooper movie from 2002. Bad cinematography, really bad sound editing. There's a party scene where good ole Bradley has a two minute conversation with a guy who clearly has his voice overdubbed. Thank goodness Wedding Crashers came along and saved this guy's career. Avoid, unless you're playing some kind of drinking game.
Sean Gillespie
Super Reviewer
I love Bradley Cooper but this movie was AWFUL! I still can't figure out why on earth I allowed it to play in its entirety. I kept hoping it would suck less, but it never did. Do I really even have to give it a star? Plot: Kenna (Colleen Porch) is dating two guys: Jeff (Bradley Cooper) and Martin (David Gail). Jeff and Martin know all about each other as Kenna is not hiding it. She told them both right up front about the 'arrangement'. She's not looking to settle down and is just out for a good time with these two guys that are as different as night and day. One boyfriend works with her as a bartender, DJing on the side despite coming from money while boyfriend #2 is an up and coming professional man with the potential for a big promotion. Kenna is not the relationship type, thanks, mainly in part to her dirt bag dad (McKinney) who is a carny that paid her mom $5000 when she wanted to spilt in order to hold onto the kid. Now it seems that her long-absent mother is trying to get back in contact with her but Kenna is too pissed to ever forgive her for abandoning Kenna. My thoughts: It is beyond belief for me to imagine why these two guys would be fighting over this baggage-laden woman? Is it because of her wet pouty lips? Better yet, can I return this DVD and get a full refund? Best Hidden Gem: There is a shot of David Gale and Bradley Cooper from behind for all fans of their...body of work?
Hindered by an off putting leading lady with neglible charisma and a sour screen presence. Her lack of magnetism and the general unpleasantness of her character cripple the film. We are expected to believe that the two male leads both with quite a bit going for them in different ways are putty in this blank slate's hands but the only thing you are left thinking is why would they even want to go on a date with her let alone fight over her.
Bending All The Rules Quotes
There are no approved quotes yet for this movie.