Beneath Clouds
(2002)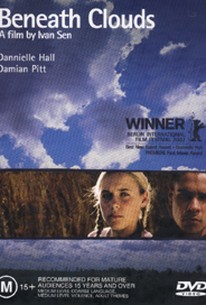 AUDIENCE SCORE
Critic Consensus: No consensus yet.
Movie Info
The cinematic debut of Aboriginal filmmaker Ivan Sen, Beneath Clouds finds light-skinned Abiriginal girl Lena Danielle Hall) making her way towards Sydney as she searches for her Irish father and contends with an escaped convict named Vaughn (Damian Pitt) along the way. An embittered youth who at first clashes with Lena, the couple must learn to put aside their differences as they navigate their way through the treacherous landscape over the course of twenty-four hours. Confronted by such obstacles as prejudiced shop owners and racist policemen, time begins to run short as tempers flare and the duo searches for transportation and sustenance. Despite the fact that each represents everything about society that the other finds reprehensible, it isn't long before Lena and Vaughn begin to find their feeling for one another developing in a manner that neither had anticipated. ~ Jason Buchanan, Rovi
Critic Reviews for Beneath Clouds
All Critics (2) | Fresh (2) | Rotten (0) | DVD (1)
Displaying about equal amounts of naiveté, passion and talent, Beneath Clouds establishes Sen as a filmmaker of considerable potential.
One of the few feature films to canvass the issues facing the aboriginal community from an adolescent perspective.

Audience Reviews for Beneath Clouds
½
- Caritas Australia Movie and Book Club - Growing up in today's society is not easy, especially when you are a teenager. But combine adolescence with the issues of Aboriginality, and growing up can be so much tougher. Ivan Sen takes us on such a journey, via his film Beneath Clouds. He explores the delicate issues of identity, sense of belonging, spirituality, and Aboriginality. His portrayal is gentle and moving - without shying away from the issues of racism, anger and historical context. It takes us below the surface of Aboriginal youth stereotypes and leaves us with a deeper understanding of how two Aboriginal teenagers, Lena and Vaughn, came to be where they are today. In the opening scenes we are introduced to Lena, a teenager with an Aboriginal mother with whom she lives and an Irish father who she doesn't know. She longs to escape from a place where she feels trapped and disconnected. This place surrounds her with all the stereotypical issues of Indigenous teenagers growing up in outback Australian towns, including teenage pregnancy, vagrancy, juvenile crime and alcoholism. But as Lena retreats into her bedroom and closes the door, we are led into another place - a place which is quiet and still. As Lena sits on her bed, a crucifix above it, we see all her vulnerabilities as she looks through her photo album at photos of her father and dreams of her Irish heritage. Going in search of her absent father, Lena heads to Sydney, hoping to find a place where she belongs. Although she starts the journey on the bus, due to fate she is left behind and so has to make the rest of the journey on foot. Vaughn is an angry Aboriginal youth who is serving time in juvenile detention when he learns of his mother's illness. In introducing Vaughn, the filmmaker again presents us with many of the stereotypes of young adolescent men. But we soon see that beneath the surface there is more to Vaughn's story. Although his mother has abandoned him, not visiting him once in detention, Vaughn wishes to return home to see her before she dies. He escapes one night and heads for Sydney. It is on this road that Lena and Vaughn meet and begin their journey together. It is journey of very little spoken language, but the few words have meaning and impact. Lena's actions are based on a deep sense of what is right and wrong. She is the moral compass by which Vaughn navigates his way toward his mother. The cinematography is breathtakingly beautiful, each scene filled with imagery which connects the viewer with Aboriginal spirituality and the earth. On their journey Lena and Vaughn must negotiate a number of events such as exposure to racism and police harassment. But each event brings them closer together, as their understanding of each other and their paths in life, evolves. Watch the film and witness a beautiful journey.
Barry Daffurn
Classic Australian film about two kids from different, but somewhat similar backgrounds who meet and wind up taking a journey together. The texture of the Australian outback as well as the indigenous people here is extremely unique, as is the look and atmosphere of the picture. It feels completely authentic. It is especially relevant to North America and our own racial issues. This is worth getting once it comes out.
Robert Amazon
Beneath Clouds Quotes
There are no approved quotes yet for this movie.
Discussion Forum
Discuss Beneath Clouds on our Movie forum!