Beneath The Darkness
(2012)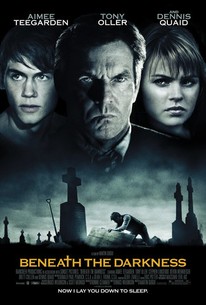 Beneath The Darkness Videos
Beneath The Darkness Photos
Movie Info
In Beneath the Darkness, Ely Vaughn (Quaid) is a pillar of the community in tiny Smithville, Texas. The town's mortician, Ely has been revered since his days as the high school's star quarterback. But since the tragic death of his wife two years earlier, Ely has withdrawn from his neighbors, while local teens spread stories of supernatural goings on at Ely's mansion-which is also the funeral home. When high school friends Travis (Oller), Abby (Teegarden), Brian (Lunsford) and Danny (Werkheiser) decide to check out the rumors, they are shocked to see the supposedly grieving widower dancing with a mysterious woman behind the curtains of his bedroom window. Their curiosity aroused, the four teens wait for Ely to leave the house before breaking in to investigate. But instead of finding clues to the woman's identity, they stumble on a grotesque, long-hidden secret. The sadistic mortician next door will now stop at nothing to literally bury his past. -- (C) Official Site
News & Interviews for Beneath The Darkness
Critic Reviews for Beneath The Darkness
Audience Reviews for Beneath The Darkness
Horrible movie. Beneath the Darkness not only has an unoriginal plot, its plot is full of clichés, is not scary, creepy, nor suspenseful. The only positive thing that could be said about this movie would be Quaid's performance.
Grant Hermanns
"What are you doing in my house?"-Ely Vaughn (Dennis Quaid) Dumb, and the ending killed me. "You dug that pretty quick, but then again, it is fresh dirt."-Ely Vaughn
FilmGrinder Stone
It is great to finally see Dennis Quaid play a character with personality again! Lately, it seems like he plays the same scarred, emotionless character, over and over again. It's hard to remember that it's his charisma that made him a star and you can really see it in Beneath The Darkness. Dennis Quaid plays Vaughn Ely, a mortician who is bat shit crazy. To the town, Ely is this great guy who gives back to the community, but only one person can see him for what he really is. Travis (Tony Oller) is a local teenager who works odd jobs for Ely and has always had suspicions about the man, but never did anything about it. One night, the subject comes up while with his friends and they decide to bust into Ely's home to find out what he's really hiding. The story starts out very slowly and I wasn't expecting it to get any better, but it really does. I already mentioned how good Quaid is, but the star of this film is Tony Oller. I've heard him sing, but I've never seen him act, and to say I was impressed is an understatement. Between Quaid's outlandish behavior and Oller's teenage angst, I didn't need much of a story to follow in order to be entertained. Beneath The Darkness is strange and not everyone is going to like it, but it's one of these films that you keep watching, because you want to know what's going to happen. What happens is that it actually turns into a pretty entertaining and respectable film, that features a star in the making.
Todd Smith
Super Reviewer
Beneath The Darkness Quotes
| | |
| --- | --- |
| Ely Vaughn: | "Stairs can be very dangerous....most accidents happen in the home!" |
| Ely Vaughn: | Stairs can be very dangerous... most accidents happen in the home! |
Discussion Forum
Discuss Beneath The Darkness on our Movie forum!