Berlin Syndrome
(2017)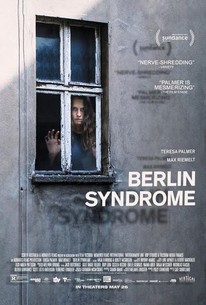 TOMATOMETER
AUDIENCE SCORE
Critic Consensus: Berlin Syndrome offers thriller fans an uncommonly well-written descent into dangerous obsession, enlivened by taut direction and a committed performance from Teresa Palmer.
Movie Info
While holidaying in Berlin, Australian photographer, Clare, meets Andi, a charismatic local man and there is an instant attraction between them. A night of passion ensues. But what initially appears to be the start of a romance, takes an unexpected and sinister turn when Clare wakes the following morning to discover Andi has left for work and locked her in his apartment. An easy mistake to make, of course, except Andi has no intention of letting her go again. Ever.
News & Interviews for Berlin Syndrome
Critic Reviews for Berlin Syndrome
Audience Reviews for Berlin Syndrome
½
It can be tense and disturbing at times, even though it feels a bit too familiar (like a mix of Fear and Misery) and moves too slow for such a predictable type of movie, not managing that well to be entertaining as a thriller and being rather dull and unpleasant to watch.
Carlos Magalhães
Super Reviewer
Theresa Palmer is no stranger to this genre of psychological horror, but "Berlin Syndrome" is the first time she truly shines and shows off her range as an actress. She portrays an Australian photographer who has just come to Berlin on a backpacking trip through Europe. There is a dreamlike pall that follows her through the film, a feeling not too dissimilar from the works of Harmony Korine or Sophia Coppola. After an erotic encounter with a handsome German schoolteacher, she finds her self locked in his apartment. Whether by accident or on purpose isn't clear at first, but she quickly comes to find out that he has plans to keep her in his isolated domicile indefinitely. You know the setup, so you probably won't be very surprised by how the plot plays out. What is surprising is how incredibly tense the film stays throughout its two hour run-time. You feel the claustrophobia of the surroundings, and the scariest part is watching Palmer's character lose her sanity, vacillating between the classic Stockholm syndrome and her desperate attempts to escape her dire situation. Her captor, played by Max Riemelt, is a bit one-note and hardly inspires much sympathy, but his coldness elevates the anxiety of the film. Director Cate Shortland hasn't exactly broke the mold with this one, but compared to many of the other early releases of this summer it is an outstanding selection and a cut above most horror fare.
K Nife Churchkey
Super Reviewer
LOOKING FOR MR. GUTBAR - My Review of BERLIN SYNDROME (3 Stars) I love me a good home invasion thriller, especially when events occur with a slowly creeping insidiousness that gets under your skin. FUNNY GAMES and THE STRANGERS come to mind as prime examples of how a seemingly innocent setup could go so terribly wrong by preying on the victims' penchants for kindness. BERLIN SYNDROME, based on the novel by Melanie Joosten fits within this genre, although it's more of a home entrapment thriller than the opposite. Working off a screenplay by Shaun Grant, director Cate Shortland has a talent for atmosphere that reminded me of Sophia Coppola's drowsy, blissed-out aesthetic. She applies this vision to a terrifying story of an Australian tourist named Clare (Teresa Palmer of LIGHTS OUT) who meets Andi, a sweet Berliner (SENSE 8's Max Riemelt) on the street and has a casual overnight hookup with him. His Eastern bloc apartment is perfect for their loud sex, since it's established slyly that nobody can hear them. The next day, she awakens to find him off to work as a school teacher and he's, perhaps by accident, locked her into his flat. It seems like an honest mistake until he does it again the next day, and it slowly dawns on Clare that Andi has no intention of ever letting her out. It's a sensational setup, with little clues dropped along the way that Clare was in a boatload of trouble right from the very start. Filled with a plethora of setups and payoffs, BERLIN SYNDROME mostly works, but at nearly 2 hours, it overstays its welcome by at least 30 minutes. Part of the problem is that this film works visually, and thus, contains a lot of silence. Its measured pace doesn't seem warranted, especially when the third act feels so rushed, leaving too many logical steps unanswered. Also, its structure seems arbitrary at times, wherein any of the plot points could have happened at any time. Still, there's a really good 90 minute movie in here. Palmer, looking almost exactly like Kristen Stewart here, does a fantastic job as the type of traveler who stays in Youth Hostels and trusts strangers too easily. She's not given much of a backstory, but her expressive eyes and stunning range of reactions, at times silenced, filled with rage, or eerily seductive, sell her Kick Ass Waif character. Riemelt, however, has the opposite challenge. We know a lot about him, his work, and his relationship with his father, but he plays only one note throughout. I respected that he never turns into a bile-spewing super villain, but at this length, it falls a little flat. I admire that the filmmakers don't want to turn this film into something cheap, allowing for ambiguity, but there are way too many blanks to fill in, that it ultimately turns frustrating. At the Writers Guild screening I attended, there were many walkouts, possibly because of the intensity of the violence, or maybe they just got tired of its pacing. While no means great, I stayed. I love watching smart people trying to get themselves out of impossible situations despite the slicing and dicing.
Glenn Gaylord
Super Reviewer
Berlin Syndrome Quotes
There are no approved quotes yet for this movie.
Discussion Forum
Discuss Berlin Syndrome on our Movie forum!