Berserk: The Golden Age Arc - The Egg Of The King
(2012)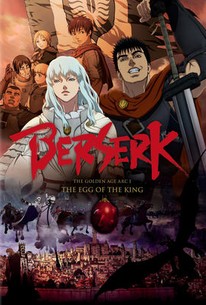 AUDIENCE SCORE
Critic Consensus: No consensus yet.
Berserk: The Golden Age Arc - The Egg Of The King Photos
Movie Info
An epic trilogy gets underway in this sweeping medieval adventure that finds lone-wolf fortune hunter Guts recruited into a mercenary group dubbed "The Band of the Hawk," but questioning the impetus of the team's leader Griffith following a decisive victory on the battlefield. Meanwhile, a dark storm begins to gather on the horizon. Based on the bestselling manga by author Kentaro Miura (Noa, King of Wolves).
Critic Reviews for Berserk: The Golden Age Arc - The Egg Of The King
Audience Reviews for Berserk: The Golden Age Arc - The Egg Of The King
A failure considering the original source, which is one of the best manga -no, comics- ever created despite its being uneven. The film fails on many levels to capture the wonderful rhythm and flow of the manga and the innovative panels are replicated without any creativity in the transition to the filmic medium. The emphasis on dramatic events seems also less succesful here and full of cliches taken of generic shounen/seinen anime. I found the music to be quite inappropriate too.
George Matalliotakis
Super Reviewer
Beserk: The Egg of the King is a wild, bloody, facinating and brilliant Dark Fantasy film based on a best selling Manga of the same name. Set in a Medieval Europe inspired fantasy world, It follows Guts; a Conan the Barbarian like warrior hungry for any bloodthirsty challenge, he soon meets Griffith, who leads a band of mercenaries and has great ambition, But does this lead to some deadly consequences. The plot follows their activities and relations with others across a great land and kingdoms fighting for a good cause and what meaning do they get out of it. The animation is fantastic with spectacular battles and great mix of CGI to go with it. The Characters have so much purpose in the story it just facinating to know where they go and what they do. On a down side its quite short at 75 mins, but its a great start for whats to come in future enteries. Even if your not familiar with this Series this could be the perfect introduction to the bloody, violent and Epic world of Bersek.
Luke Eberhardt
Super Reviewer
Berserk: The Golden Age Arc - The Egg Of The King Quotes
There are no approved quotes yet for this movie.