The Best of Everything
(1959)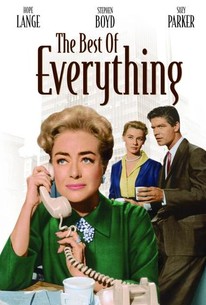 The Best of Everything Photos
Movie Info
Amanda Farrow (Joan Crawford) is a successful book publisher having an unsatisfying affair with a married man. Her female co-workers having affairs as well. The women fall prey to their conniving, insensitive men and are seemingly taken advantage of the entire film. A pregnancy, a proposed cohabitation and marital infidelity are all depicted among the career women working on Madison Avenue and at Rockefeller Center. Co-stars are Hope Lange and Louis Jourdan.
Critic Reviews for The Best of Everything
Audience Reviews for The Best of Everything
½
[font=Impact]Saw this film for the first time today. Im making my way thru Ms. Crawfords film career. (Trog and a few others excluded) [/font] [font=Impact]Was APALLED at sexism that was par for the course for a working woman back then. That scene where Ms. Colorado gets jumped on by her boss and then he gives her 2 SANDWICHES and 20$ to pay her off. and then she actually EATS the sandwich?! Oh My. Then Hope Lange becomes an executive and STILL lives with 2 girls in an 1 room walk up?! I think not. Or how's about when Ms. Colorado gets knocked up and her boyfriends TELLS her they're going to get married and lets her buy a dress and all. Well he picks her up and acts all cool and then SUPRISE he tells her they're going to somewhere "just as clean as a hospital" to "get rid" of her "problem" (she was "a girl in trouble" as the parlance of the time went) Not to mention that the absolute best thing a woman could do in this film was get married and have kids (with a husband that, if the behavior of the men in the movie is ANY indication; will inevitably cheat on her.) [/font] [font=Impact][/font] [font=Impact]But NEVERMIND that.....The few minutes Ms., Crawford is onscreen are GREAT! All the Mommie Dearest hateful sarcasm you could ever want,delivered coldly enough to chill an eskimo! [/font] [font=Impact]Shes a RAVING beyotch! But before you write it off as her just playing the grand damme she has 1 scene where she gets to play stiff-upper lip-ballbuster who's just misunderstood and secretly desprately wants to be a "real woman" (i.e. get married and have kids) [/font] [font=Impact][/font] [font=Impact]Overall its a joy to watch. Great hair,great wardrobe. Lange's pink Channel-esque suit and pearls at the hospital as well as all the hot-gloves-shoes combos are the epitome of 50's glamour. The hairstyles are getting away from the tight pinned subdued coifs of 1950 and starting to veery towards the huge laquered elaborate hair of the 1960's professional woman. Miss Crawford's hair aint the best but the red blonde color is nice.[/font] [font=Impact][/font] [font=Impact]I reccomend this on a night you wanna stay in and watch a cheesy fun girl movie or over morning coffee with the girls.[/font]
Jesse McClure
½
I thought this movie would have a little more lightness to it. It follows a lot of the old cliche's about men and how stupid women can be when in love.
Annette Cuddeback
A soap opera-esque guilty pleasure for a chick flick mood. Stephen Boyd is the classic cheerful, tortured soul who's really a wonderful person beneath it all. Joan Crawford, as usual, gives an incredibly nuanced portrayal of a dislikable woman.
AV 8
The Best of Everything Quotes
There are no approved quotes yet for this movie.
Discussion Forum
Discuss The Best of Everything on our Movie forum!