Best Worst Movie
(2010)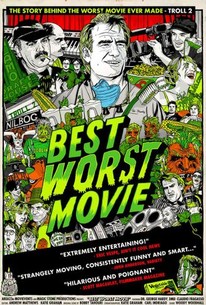 Movie Info
In 1989, unwitting Utah actors starred in the undisputed worst movie in history: "Troll 2" decades later, the legendarily inept film's child star unravels the improbable, heartfelt story of an Alabama dentist-turned-cult movie icon and an Italian filmmaker who come to terms with this genuine, internationally revered cinematic failure.
News & Interviews for Best Worst Movie
Critic Reviews for Best Worst Movie
Audience Reviews for Best Worst Movie
½
A surprising and bittersweet doc that will certainly appeal more to those out there who share the same strange fascination for this unexpected cult phenomenon (me included), even if it simplifies the reason for its shocking success into simple matters of being entertaining.
Carlos Magalhães
Super Reviewer
½
The only thing wrong with this documentary is the time. Too short for so many characters, actors, scenes and history that eventually doesn't appear. Very funny, exciting, moving... a great event for a great terrible movie.
Lucas Martins
Super Reviewer
½
Best Worst Movie is a documentary about the cult that's grown around Troll 2 and where the actors are now. George Hardy drives this movie, an affable dentist from Alabama who loves the weird new fandom he finds himself the centre of. At times it's a little bit sad when you see what's become of Margo Prey or that Robert Ormsby seems disappointed with his life. If Hardy is the hero, then Claudio Fragasso, the director of Troll 2 is the villain, a humourless pompous pseudo-arteeste who doesn't understand what good movie-making is, doesn't understand America, can't take criticism and doesn't want you to enjoy his movie wrong. As a whole, it makes you want to see Troll 2, which is kinda cool, I guess, I'd have liked to see more of Michael Stephenson, the grown up child actor who's behind the camera.
Emily Armstrong
Super Reviewer
Best Worst Movie Quotes
There are no approved quotes yet for this movie.