The Betsy
(1978)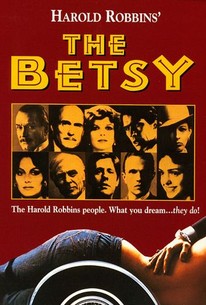 AUDIENCE SCORE
Critic Consensus: No consensus yet.
Movie Info
Based on the novel by Harold Robbins, this is the story of Loren Hardeman, Sr., a Midwestern automobile manufacturer (Lord Olivier) who pins his future on The Betsy, a "wonder car" named after his daughter (Kathleen Beller). The Betsy is designed to last practically forever, which doesn't rest well with the "planned obscolence" mindset of the auto industry. Flashbacks cover his career from his 40s to the present, when he is in his 90s. Hardeman, Sr. has a weak-willed son, Hardeman, Jr., (Robert Duvall) who is forced into taking charge of the family business.
Critic Reviews for The Betsy
There are no critic reviews yet for The Betsy. Keep checking Rotten Tomatoes for updates!
Audience Reviews for The Betsy
Melodramatic rubbish, but fun rubbish. Good sets, costumes and all that, very little regard for accurate period detail. Many over the top performances, but it's entertaining. A bit overlong, a little more editing would have helped out.
James Higgins
½
Great cast (Tommy Lee Jones, Robert Duvall, Laurence Olivier), but poorly acted, directed, and written. Feels like a weak soap opera.
Anthony Stevenson
:rolleyes: Netflix: August 31, 2007 [url="http://www.rottentomatoes.com/m/betsy/gallery.php"][img]http://images.rottentomatoes.com/images/movie/coverv/31/135431.jpg[/img][/url] [b]My Review:[/b] With all the old bigtime names in this film (Laurence Olivier, Robert Duvall, Kathleen Beller, Tommy Lee Jones, Katharine Ross, Lesley Anne Down, Jane Alexander, and Edward Herrmann) I had high hopes, even though I read the reviews and realized that the average Netflix rating was only 2/5 stars. I was hoping everyone was wrong. Well, after seeing it, I reluctantly give it a rating of 2/10. Something was off. The book was good, and the beautiful mansions and clothes in this were great, but the screenwriter evidently forgot the script and the actors forgot to act, even Laurence Olivier. It had potential, but didn't deliver. There is some full frontal nudity, which I was surprised to see in a 1978 film, but there it was, and some four-letter words too. In the end, none of that mattered. The script was bad, the acting was bad, and although the story was interesting, the movie was boring. My "high hopes" were dashed. [b]SYNOPSIS:[/b] [i]The Betsy[/i] is based on Harold Robbins's sordid potboiler about several generations of an American car manufacturing dynasty, stars Laurence Olivier as 90-year-old Loren Hardeman, who rules the family with an iron fist. The clan is constantly involved in intrigues and affairs ranging from adultery to abuse of power. Although Loren has passed along the family business to his grandson, Loren Hardeman III (Robert Duvall), he has one idea that he is desperate to realize. The Betsy is Loren's dream car, named after his doting great-granddaughter (Kathleen Beller), and he hires Angelo Perino (a young and seductive Tommy Lee Jones) to help him secretly create the economical, efficient vehicle. Angelo is an injured race car driver who diligently works to design the car while seducing Betsy and having an affair with Loren III's mistress (Lesley-Anne Down). But the money-grubbing auto industry isn't too fond of Loren's secret pursuit, and their desire to sabotage him soon sets off more melodramatic action than a family can handle.
XXX --------
The Betsy Quotes
There are no approved quotes yet for this movie.
Discussion Forum
Discuss The Betsy on our Movie forum!