Betsy's Wedding
(1990)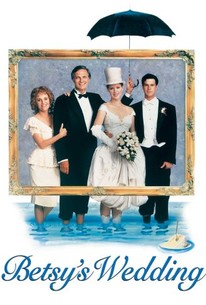 Movie Info
Doting dad Eddie Hopper (Alan Alda) is willing to spend every penny to his name to make certain that his daughter Betsy (Molly Ringwald) will have the perfect wedding. Betsy would prefer a small, intimate ceremony-and so would Eddie's wife Lola (Madeline Kahn), who suffers from visions of the Poorhouse dancing in her head. When his bank account is depleted, Eddie turns to his slightly crooked brother-in-law (Joe Pesci), and Pesci's crooked cohort (Burt Young). Salvation comes from a most unlikely corner in this labyrinthine domestic farce. In addition to the aforementioned stars, Betsy's Wedding offers strong comic support in the form of Joey Bishop, Bibi Besch, Catherine O'Hara, Anthony LaPaglia, Nicholas Coster, and the late, great Julie Bovasso.
Critic Reviews for Betsy's Wedding
All Critics (8) | Top Critics (3) | Fresh (4) | Rotten (4)
Doesn't summon much of a reaction at all, leaving the eventual parade of sentimentality D.O.A. I was entertained by Wedding, but never enlivened by it.

Molly Ringwald after the fall.

Audience Reviews for Betsy's Wedding
Betsy's Wedding was, surprisingly, more humorous than I thought it would be. Alda provides a some well managed chuckles and his slow direction allows for a continual humorous tone rather than a few sporadic gut wrenching laughs. Betsy's Wedding is a fun little peak into the craziness of weddings and a pleasing comedy from the early days of the 90s.
Jonathan Porras
½
I have to admit, this one has not aged well. Being a mad Molly Ringwald fan, this is a movie I have seen many times over the years, though not for a good five or six years. The main problem this has is there is not enough of Molly in it, even though she's the title character. There are some good supporting characters, including Ally Sheedy and Catherine O'hara, but there's a few I could happily have seen less of. I really didn't like the Stevie character a lot. It is mainly a nice little wedding story with a dysfunctional family and in laws thrown in. Nothing that hasn't been done before. Probably won't win any new fans, but might be enjoyed as a nostalgia piece (though even the clothes are pretty damn ugly here and it's a worry that Betsy hacking up that wedding dress actually improved it!).
Nicki Marie
Super Reviewer
½
This movie is pretty good, it's a typical wedding story with some good comedy, but it could have been a lot funnier, and I wanted to see more of Ringwald and less of all the minor characters. I enjoyed it anyway.
Betsy's Wedding Quotes
There are no approved quotes yet for this movie.
Discussion Forum
Discuss Betsy's Wedding on our Movie forum!