Beverly Hills Bodysnatchers
(1989)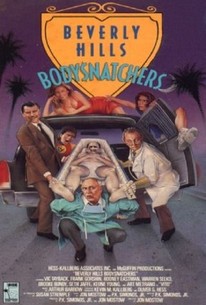 AUDIENCE SCORE
Critic Consensus: No consensus yet.
Beverly Hills Bodysnatchers Videos
Beverly Hills Bodysnatchers Photos
Movie Info
This dreadfully unfunny horror-comedy is notable only for fans of Vic Tayback (Mel from TV's Alice), here in his final role as a goofy mortician who teams up with an even-goofier mad scientist (Frank Gorshin, doing a Boris Karloff impression for the length of the film) to concoct a method of reanimating cadavers, unwittingly financed by the local mob boss (Art Metrano). They are assisted in their work by the boss's nephews, sort of teenage versions of Burke & Hare (or is it Bill & Ted?), sent there to keep tabs on how their uncle's money is being spent. No prizes guessing whose corpse ends up rising from the slab to make them an offer they can't refuse. This could have been darkly-funny fare in more experienced hands; instead we're left with a film that's dead on arrival.
Rating:
R
Genre:
,
Directed By:
In Theaters:
Runtime:
Studio:
Shapiro Glickenhaus
Critic Reviews for Beverly Hills Bodysnatchers
There are no critic reviews yet for Beverly Hills Bodysnatchers. Keep checking Rotten Tomatoes for updates!
Audience Reviews for Beverly Hills Bodysnatchers
One of the things I'd forgotten to mention in my review of [i]Moontrap[/i] was that the running time listed on the box was a fallacy. I'm not complaining, as it just would have meant another five minutes of Walter Koenig walking around very slowly, but it's still worth noting that the box (and the IMDb) are incorrect. The box claims to run 92 minutes, but the truth is that the tape clocks in at just under 90, and that includes a trailer for [i]Beverly Hills Bodysnatchers[/i]. This is all just a terrible way of seguing into [i]Beverly Hills Bodysnatchers[/i], as far as I know the only zombie comedy that features the dynamic comic duo of Vic Tayback and Frank Gorshin. Horror-comedies were inexplicably popular in the '80s, even though they were mostly awful, so the teaming of one useless genre with the equally useless trend of throwing "Beverly Hills" into the title seemed like the easiest possible way to get a movie or TV show made. Just look at [i]Down and Out in Beverly Hills[/i], [i]Beverly Hills Cop[/i] (x3), [i]Troop Beverly Hills[/i], [i]Beverly Hills Brats[/i], "Beverly Hills Buntz," [i]The Taking of Beverly Hills[/i], [i]Terror in Beverly Hills[/i], "Beverly Hills Teens," [i]Scenes from the Class Struggle in Beverly Hills[/i], [i]Beverly Hills Vamp[/i], "Leo & Liz in Beverly Hills," [i]Beverly Hills Madam[/i] or [i]Top Cat in Beverly Hills[/i]. Vic Tayback plays a mortician whose business is in debt to the mob because his partner, mad doc Frank Gorshin, has been using the money to experiment on a formula to revive the dead. Enter two surfer brothers (Warren Selko and [i]Nightmare on Elm Street 3[/i] & [i]4[/i]'s Rodney Eastman) who are forced to help out at the funeral home by their mother (Brooke Bundy, also from [i]Elm Street 3[/i] & [i]4,[/i] not to mention [i][url="http://www.rottentomatoes.com/vine/journal_view.php?journalid=13186&entryid=321326&view=public"]Twice Dead[/url][/i]) and their mob boss uncle (Art Metrano). Wackiness ensues. You can probably make up a plot equal to or better than what's in [i]Beverly Hills Bodysnatchers[/i], but for the record, it involves the boys throwing a wild party where someone mixes up Gorshin's chemicals, causing those returning to life to go into violent rages. The head mobster (Seth Jaffe) dies and is resurrected, and the gang has to kill him again before a rival mobster (Keone Young, "Deadwoood"'s Mr. Wu) finds out that he's still alive. Yeah, it's dumb, and it's not really funny at all. It aims for the lowbrow, and while it manages to be kind of grotesque in a sad, desperate, look-at-the-party-kids-putting-make-up-on-corpses sort of way, it never manages to be outrageous. Tayback is fun to watch when he goes into rampages, and Gorshin wandering around doing anything is entertaining, but so much of the movie is spent with the two brothers that the humor manages to be sucked out of scenes that could have easily been at least worth a grin. The fact that you can't really tell the brothers apart (Eastman is the quieter one) doesn't help much either. The film manages to pretty much blow it at every opportunity. It's almost as though it's too afraid of actually offending people to have the characters do anything too deranged. Sure, it's got a great set-up where a violent zombie approaches a group of pint-size (Beverly Hills) brats, but they manage to run away without incident. When a mortuary comedy is too afraid to kill off a few kids, something is very, very wrong. Only in the film's bizarre conclusion, where immortality is achieved and the human race wreaks the benefits, do you get the feeling that they weren't holding back--or maybe they'd just written themselves into a corner. It's such a humorless thud of a movie that's it not suprising that director Jonathan Mostow found he's better off with action--he's since gone on to do the fine[i] Breakdown[/i], not to mention [i]U-571[/i] and [i]Terminator 3[/i]. He probably doesn't mention this on his resume these days, much like co-writer P.K. Simonds, who went on to created "Party of Five," a much funnier show than anything on display here.
Paul Freitag
Beverly Hills Bodysnatchers Quotes
There are no approved quotes yet for this movie.
Discussion Forum
Discuss Beverly Hills Bodysnatchers on our Movie forum!