Beware! Children at Play
(1995)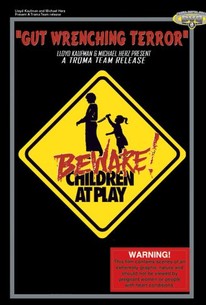 AUDIENCE SCORE
Critic Consensus: No consensus yet.
Beware! Children at Play Photos
Movie Info
In this horror epic from the always-tasteful folks at Troma Team Pictures (creators of The Toxic Avenger), the parents in a small town begin having a serious discipline problem with their children. It seems the kids are being lured into a strange cannibalistic cult and start feeding on the flesh of their families!
Critic Reviews for Beware! Children at Play
There are no critic reviews yet for Beware! Children at Play. Keep checking Rotten Tomatoes for updates!
Audience Reviews for Beware! Children at Play
½
Mike Cribben's cult favourite Beware: Children at Play is one of the most demented films ever to be picked up by Troma. The film deserves praise for fearlessly breaking one of the last taboos in horror and most impressively, doing so in an entertaining manner. Beware: Children at Play really is a taste free zone. For that achievement alone, the film is an absolute must see. Lloyd Kaufman's introduction to the film begins with an anecdote recounting how a preview for Beware: Children at Play successfully emptied a theatre at the Cannes film festival. I'm sure the reaction would have been one of rapturous applause if the audience had seen the film in its entirety, because within the context of the "plot", the slaughtering of the demon children really does provide great entertainment. I know that sounds abominable but when a film's plot revolves around wild cannibalistic children who believe they are characters from Beowulf, I would say that just about anything goes. The film begins slowly and somewhat painfully due to the extended dialogues about "cleavages" (I didn't even know there was a plural form of the word) and supernatural phenomenon. Before too long, John has joined Ross in his search for a group of missing children. These children really need a visit from Super Nanny because they spend their time cutting people in half with sickles and impaling trespassers on wooden stakes. The fact that children are depicted eating body organs would be tasteless enough for most directors, but to Cribben's credit he raises the bar by throwing a rape scene and a handful of religious fanatics into the mix. The film momentarily goes astray while our incredibly stupid heroes go to the library and read Beowulf, in order to get into the mind of the ringleader, who believes he is the cannibalistic monster, Grendel. Thankfully, Beware: Children at Play gets back on track for the infamous child killing marathon. This sequence is remarkable in its complete and utter shamelessness. Kiddies get decapitated, stabbed, shot and killed with pitchforks. It is all so very wrong but when presented in this context, with the campy production values and incredibly unrealistic effects, the scene comes across as a stroke of genius. However, I think the picture gallery of slaughtered children on the Troma DVD is a bit foul even by my degenerate standards. That said, I'm glad that Troma once again has the balls to put this kind of material out on the market. Beware: Children at Play is definitely not for everyone. However, fans of Troma and tastelessness in general will have a grand old time watching this shocker. I give this film full marks for having the backbone to completely smash one of cinema's biggest taboos and for being entertaining while doing so.
Cassandra Maples
Super Reviewer
Beware! Children at Play Quotes
There are no approved quotes yet for this movie.