Beyond the Dunwich Horror
(2008)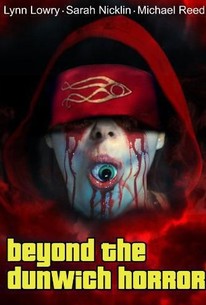 AUDIENCE SCORE
Critic Consensus: No consensus yet.
Beyond the Dunwich Horror Photos
Movie Info
Kenny Crawford arrives in Dunwich after hearing that his brother Andrew has been admitted to a psychiatric ward, and is suspected in a string of disappearances in the town. With the help of local reporter Marsha Calloway and the eccentric Upton Armitage he probes the last few weeks of his brother's life. As they do so, they uncover evidence of a plot in the works revolving around Andrew, his girlfriend Nikki Hartwell and her twisted friend Otto Bellinger.
Critic Reviews for Beyond the Dunwich Horror
There are no critic reviews yet for Beyond the Dunwich Horror. Keep checking Rotten Tomatoes for updates!
Audience Reviews for Beyond the Dunwich Horror
So awful. Looks like a student production. I could see them trying hard to make a homage to the 70s exploitation film but it did not work.
Sylvester Kuo
Super Reviewer
The plot synopsis given here isn't correct and I saw this movie entitled simply "The Dunwich Horror" (IMdB: http://www.imdb.com/title/tt1226752/combined). Despite the title, it's a large departure from the HP Lovecraft story of the same name, though it uses characters from both that story and several others. The story as it is is a bit of a mess and the special effects are exceptionally cheap-looking. Dean Stockwell isn't bad in his supporting role and Jeffrey Combs seems to have been included here simply because one must include him in the cast of any adaptation of a Lovecraft story. He's underutilized as the barely-speaking, hulking Wilbur Whateley. This is really a b-movie knock-off that never quite gets the Lovecraftian feel, lacking both in horror and the dark humor that characterized Brian Yuzna and Stuart Gordon's better efforts. Clumsy attempts at plot twists ("The house is the book!"... literally) don't exactly help. Passable at best; you might watch it once, but it will never make anyone's list of favorite Lovecraftiana. Even the attempt at depicting Yog Sothoth falls so flat that it's unintentionally comical.
Brian Seitzman
It took me ten minutes to download, ten minutes to watch, and I'll tell you - that's twenty minutes of my life I'm never getting back. While Lovecraft adaptations are categorically bad, there's a few that stand out as not horrendously awful. This one doesn't meet that minimal standard, and while it mustered better than the pathetic average of a college-made film, it wasn't worth those twenty minutes. Stephen King fans probably roll the same way, watching director upon director pull an Uwe Boll on an otherwise fine story. Except it's been OVER SEVENTY YEARS since Lovecraft shuffled off his mortal coil and scriptwriters still can't figure out how to adapt his stories to the screen. What's probably worse is that I'll still watch these, in the faint hopes that someone out there can pull it off.
Kayne McGladrey
Beyond the Dunwich Horror Quotes
There are no approved quotes yet for this movie.
Discussion Forum
Discuss Beyond the Dunwich Horror on our Movie forum!