Beyond Outrage
(2014)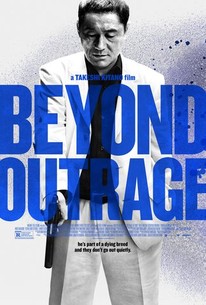 Movie Info
With BEYOND OUTRAGE, action cinema master Takeshi Kitano returns to the hard boiled characters, black comedy and unflinching violence of his crime masterpiece OUTRAGE. This time, a manipulative police crackdown on organized crime has ignited a tricky power struggle in the yakuza underworld. The Sanno crime family has grown into a massive organization dominated by young executives whose new approach to running the family is causing frustration and pent-up resentment with the old-guard members. This vulnerability in the Sanno hierarchy is exactly what anti-gang detective Kataoka has been looking for, as the police force prepares a full-scale crackdown. Kataoka wants start a war between Sanno and the neighboring Hanabishi crime family in the hopes that they destroy each other. His trump card is Otomo (Kitano) - the rumored-dead boss of a defunct family that was destroyed by the Sanno, who has just been released from prison. Otomo wants to retire from a life of crime, but finds himself drawn back in through Kataoka's manipulations as the Sanno and Hanabishi clans teeter on the brink of an all-out war. (c) Magnet
News & Interviews for Beyond Outrage
Critic Reviews for Beyond Outrage
Audience Reviews for Beyond Outrage
I thought it was a great movie. Takeshi screen presence is larger than life. This is a sequel that will not disappoint you.
Don Beaulieu
½
Sequel to Outrage that is sort of all over the place. There are so many names in these 2 films that it distracts from the story and you're left trying to remember who's who. Beat Takeshi is a great filmmaker/actor who really has his own style, albeit sometimes very confusing.
Evan Michael
½
Rumor is he betrayed his own family. Otomo has just gotten out of jail and his brother is rising up the Yakuza ranks and wishes to help restore Otomo's name and power within the Yakuza, especially if it helps his rise to power. However, the two most powerful families, one from the East and one from the West, are about to start a war the brothers can't keep clear of. Meanwhile, a secret police task force has been charged with reducing yakuza violence; with Otomo out of jail, that may be impossible. "Yakuza are the worst type of trash." "Cops are no different." Takeshi Kitano, director of The Blind Swordsman: Zatoichi, Dolls, Brothers, Outrage, Fireworks, Violent Cop, Boiling Point, and Sonatine, delivers Beyond Outrage. The storyline for this picture isn't as compelling as the first film but just as violent. The character interactions are well done and the ultimate direction is better than average. The acting is also on par with the original. "I haven't fallen low enough to need your protection." I enjoyed the first film and was excited this sequel was added to Netflix as well. This was okay and worth a viewing, but far from a masterpiece. I enjoyed the action scenes and shootouts, and the evolution of the film was solid. I do recommend seeing this if you're a fan of these yakuza gangster flicks. "You hit her in the head after she got drunk." Grade: B-
Kevin Robbins
Beyond Outrage Quotes
There are no approved quotes yet for this movie.
Discussion Forum
Discuss Beyond Outrage on our Movie forum!