Beyond Rangoon
(1995)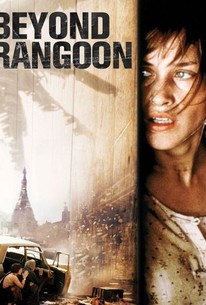 Movie Info
In a role originally intended for Meg Ryan, Patricia Arquette plays Dr. Laura Bowman in director John Boorman's film of an American abroad in a strange country. It's 1988 and Laura is desperate to flee the United States and the memory of her husband and son's murders. Accompanied by her sister, Andy (Frances McDormand), she heads for Burma just as the peaceful protests against the country's military government take a more violent turn. Andy and the rest of their party flee in a hurry, but Laura is forced to stay behind when she loses her passport. A former professor (Aung Ko) offers her guidance to the border of Thailand, where they both hope to make their escape. Boorman's scenes of action and violence are well-staged, but Arquette is not big enough to carry the film and her plight seems inconsequential next to that of the Burmese as the military begins its ruthless crackdown.
Rating:
R (for depiction of violent political oppression.)
Genre:
,
Directed By:
Written By:
In Theaters:
On DVD:
Runtime:
Studio:
Sony Pictures Home Entertainment
Critic Reviews for Beyond Rangoon
Audience Reviews for Beyond Rangoon
And Starring the Token American I was watching this movie and thinking, "How many people have to die for this woman's sense of American exceptionalism?" A character who flat out says that it must be the Burmese people who save Burma, that Americans can't do it for them, for example. But because she thinks that things will be different for her, because she's American and that means she's safe, he is gunned down by military forces. It's kind of like in [i]Star Trek[/i] and [i]Planet of the Apes[/i] and so forth, wherein characters say, "You can't do this to us! We're human beings!" And you think, "Yeah, but the characters doing whatever-it-is aren't, so what do they care?" It's true that the death of an American tends to draw American attention, and most oppressive regimes try to avoid that, but when you can literally write it off as, "She was a stupid tourist who violated several of our laws," people are less inclined to care. Laura Bowman (Patricia Arquette) is on a tour of Rangoon. Her husband and child were murdered, and she has lost all hope, strength, and other positive personality traits, and her sister, Andy (Frances McDorman), decided that a tour of the Exotic East (actually said in those words!) will cure everything. Only one night, Laura leaves the hotel and sees a protest, including an appearance of Aung San Suu Kyi (Adelle Lutz), and while she's out, she loses her passport. The Burmese government accuses her of selling it. Andy has to leave--staying in Burma more than a week is forbidden--and Laura gets replacement papers from the American consulate. And then decides that she wants to tour the "real Burma." She meets U Aung Ko (himself, apparently), a tour guide who is also something of a student leader. She insists on leaving Rangoon, despite the dangers. And boy, does she see them. She is determined to keep U Aung Ko alive, but all around her, people are dying. Okay, so I'm expecting something approaching subtlety from the director of [i]Zardoz[/i], and that's crazy talk. Fair point, really. However, Laura is an idiot, and she's supposed to be the sympathy character. We are taking her point of view, and that's kind of insulting. Mind, I'm not just calling her ignorant. While I did know more about the power structure of Burma in 1995 than the average American (thank you, Academic Decathlon and Documents of Freedom!), this isn't set in 1995. It's set in 1988, during a violently suppressed uprising. However, that's not the point. It isn't that Laura doesn't know what's going on; that can be excused. It's that she seems incapable of learning what's going on. All evidence to the contrary, she seems to think she is capable of protecting people. She never works out that she is in as much danger as anyone else, if not more--after all, if she gets out, she can tell her story to the international press and be heard. Who listens to just another refugee? I'm also deeply peeved by how much focus is put on women's beauty in this movie. That's Laura's impression of Aung San Suu Kyi--she's beautiful! Never mind that she apparently has mystical powers (see the young, scared soldiers literally quaking at her approach), and never mind that she is leading a nonviolent attempt at overthrowing her country's government. She is intelligent, powerful, savvy, or even fearless? No. Beautiful. In the short making-of on the disc, John Boorman emphasizes something like three times how beautiful she is, as if we couldn't get it from her picture. It's demeaning. And Boorman doesn't seem to know that. (Yeah, as established, [i]Zardoz[/i]. It still bothered me.) When Laura is introduced to people it is reasonable to expect she never would have had the chance to see, her reaction is to call them both beautiful, not to observe that it's lucky that they all ended up in the same refugee camp. Though I suppose Laura is too dumb to know how lucky that is. The goofs page on IMDb mentions, twice, that a bribe Laura gives a soldier at one point is only worth a dime US, and therefore it is not really an effective bribe. And while that may have been the conversion rate at the time, conversion rates don't factor in things like cost of living. It's established that most of the soldiers we see are poor, ignorant boys from the country. It's how the military is able to make them shoot their own countrymen; they're kept in the dark about the real issues, and they really do think they're helping their country. So how valuable is that dime in the country? What was the average salary for a Burmese soldier in 1988? It's American exceptionalism again; a dime is nothing to us, so we aren't considering that it might be something to someone else. Now, to be fair, I don't know the answer to any of those questions, either. However, I did know enough to ask them, which is clearly more than some people. Not knowing stuff like that is how people end up doing more harm than good when they try to help.
Edith Nelson
½
In "Beyond Rangoon," sisters Laura(Patricia Arquette) and Andy(Frances McDormand) travel to Burma in 1988 to help Laura get over the murder of her husband and son. Sleepless one night, Laura stumbles across a pro-democracy protest led by Aung San Suu Kyi(Adelle Lutz). It is there that she has her passport conveniently stolen and is forced to stay behind while Andy continues on to Thailand. While she waits to have a replacement passport made, Laura decides to do some sightseeing, enlisting U Aung Ko(U Aung Ko) to drive her. If it is true that the road to mediocre films is built on good intentions, then "Beyond Rangoon" is a perfect example. Set at an important time in Burma's history and made at a time when not a lot of information was getting out due to the military junta's total control, then the movie serves a purpose to dramatize these events. However, by working in a highly contrived story that closely resembles an epic psychiatric session, it also manages to trivialize them at the same time. But the cinematography is very lovely. At any rate, it would not be until the documentary "Burma VJ" that we would get the clearest picture of what is going on inside Burma.
½
Good story and performances.
Anthony Valletta
Super Reviewer
Beyond Rangoon Quotes
There are no approved quotes yet for this movie.