Beyond the Door III
(1989)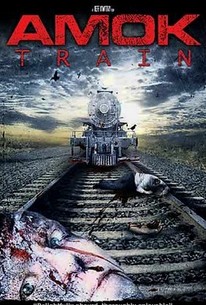 AUDIENCE SCORE
Critic Consensus: No consensus yet.
Beyond the Door III Photos
Movie Info
A group of American college students travel to Serbia in order to witness an ancient rite, only to find themselves under attack from Satan himself. This violent horror film follows the students' struggle against the Devil, who intends to take one of the virginal students as his mate.
Rating:
R
Genre:
Directed By:
Written By:
On DVD:
Runtime:
Studio:
Avala Film
Critic Reviews for Beyond the Door III
There are no critic reviews yet for Beyond the Door III. Keep checking Rotten Tomatoes for updates!
Audience Reviews for Beyond the Door III
American tourists and the Yogaslavian rail road vs. Satan and followers. Love those miniture shots. "SHE'S NOT A VIRGIN!"-Old Woman (Olga Poznatoz)
FilmGrinder Stone
Beyond the Door III (Jeff Kwitny, 1989) Beyond the Door III, also released under its original title Amok Train, has as much to do with the first two Beyond the Door movies as Zombie 5: Killing Birds has to do with Dawn of the Dead... in other words, not a damn thing. What it is, and what gives it the rather limited appeal it has, is an attempt by two Americans, LA director Jeff Kwitny (Lightning in a Bottle) and Sheila Goldberg (who, perhaps not coincidentally, co-wrote the script for Killing Birds with director Claudio Lattanzi), to make a supernatural giallo. The end result doesn't work too well, but you've got to admire the gumption, no? Plot: a college professor and some of her charges head off into the wilds of Eastern Europe for their comparative religion class (note: I'm extrapolating there, it could just as easily be an archeology class. Or sociology. Or calculus, in a particularly weird school.), where they hook up with ultra-creepy Professor Andromolek (Walking Tall's Bo Svenson). Andromolek takes them even father from civilization, to a small village in the middle of nowhere where everyone bunks down for the night in preparation for some sort of ancient religious ritual the next day. Problem is, it's kind of like getting invited to dinner by cannibals; you never know if you're a guest or the main course. One of the students, Beverly Mr. Baseball's Mary Kohnert), is a virgin, and the village folks are planning on sacrificing her to conjure up the devil. Where does the train come into all this, you ask? Some of the escaping students stumble upon a track and hop the train, which is full of all sorts of weirdos who make the villagers look positively friendly in comparison... While this is certainly not deathless cinema, it's hard to deny its influence on things that have popped up since; the 2008 torture-porn flick Train seems to be almost a direct descendant of the second half of this movie, for example. And while it's full of the usual silliness one expects from bad low-budget cinema (awful acting, murky camerawork, fubling direction, script full of plot holes, etc.), it's hard to deny the film is entertaining on some levels. Stupid, yes, but entertaining. If you're a fan of the Satanic-panic films of the eighties, this is going to be right up your alley, and were I you I would definitely check it out. The rest of you, maybe not so much unless you're familiar enough with movies like it to know what you're getting into. **
Robert Beveridge
½
This piece of Eurohorror bills itself as Beyond the Door III in title sequence of the version I watched, and the film does feature demonic possession like the original Beyond the Door. Amok Train features some genuinely creepy and cool visuals of a haunted, possessed, and bewitched Eastern Europe. Even at 94 minutes, the film still feels interminable because its plot plods along at such a snail's pace and it fails to ever fully develop its brutal moments into something more grand. Still, it features some original, uncanny scenes that make it worth watching for fans of Satanic cinema.
Al Miller
Beyond the Door III Quotes
There are no approved quotes yet for this movie.
Discussion Forum
Discuss Beyond the Door III on our Movie forum!