Beyond the Gates of Splendor
(2002)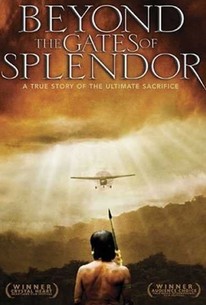 AUDIENCE SCORE
Critic Consensus: No consensus yet.
Beyond the Gates of Splendor Photos
Movie Info
In 1956, a group of five American missionaries were sent to Ecuador, where they introduced themselves to the Aucas, a tribe of indigenous people who lived near the Eastern Amazon River. The Auca tribe was among the most violent societies on Earth -- six out of ten deaths among the tribe were homicide, and they were even more bloodthirsty with outsiders than they were with their own. The Americans attempted to convince the Aucas of their good intentions, but they were soon speared to death by members of the tribe. However, after word reached the United States that the missionaries had been murdered, the wife of one of the fallen men traveled to Ecuador to continue her husband's work. Within two years, a profound change came over the Aucas -- their murder rate fell by 90 percent, and in time, the newly peaceful tribe renamed themselves the Waodani. Beyond the Gates of Splendor is a documentary which recounts this extraordinary true story as Steve Saint, the son of one of the murdered missionaries, travels to Ecuador to visit with the Waodani tribe.
Critic Reviews for Beyond the Gates of Splendor
Audience Reviews for Beyond the Gates of Splendor
This is an excellent documentary about the life of missionaries that go into a part of Ecuador to witness to a very isolated tribe. It is very faith affirming and encouragaing.
ashley hayes-beaty
Super Reviewer
Beyond the Gates of Splendor Quotes
There are no approved quotes yet for this movie.