Beyond The Hills
(2013)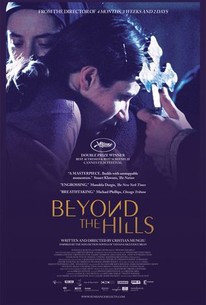 TOMATOMETER
AUDIENCE SCORE
Critic Consensus: Although some viewers may mistake its deliberate pace for passionless filmmaking, Beyond the Hills offers an intelligent, powerfully acted examination of the tension between secular life and religious faith.
Movie Info
In an isolated Orthodox convent in Romania, Alina has just been reunited with Voichita after spending several years in Germany. The two young women have supported and loved each other since meeting as children in an orphanage. Alina wants Voichita to leave and return with her to Germany, but Voichita has found refuge in faith and a family in the nuns and their priest, and refuses. Alina cannot understand her friend's choice. In her attempt to win back Voichita's affection, she challenges the priest. She is taken to hospital and the people of the monastery start to suspect that she is possessed. When the doctors send her back, Alina is included in the monastic routine in the hope that she will find peace. But her condition worsens and they finally have to tie her to a wooden plank to prevent her from hurting herself. After ruling out all other options, the priest and nuns decide to read her prayers to deliver those possessed by the Evil One. They perform an exorcism, but the result is not what they had hoped, and Voichita begins to doubt the religious choice she has made. She decides to free Alina - but her decision comes too late. Inspired by the non-fiction novels of Tatiana Niculescu Bran.
News & Interviews for Beyond The Hills
Critic Reviews for Beyond The Hills
Audience Reviews for Beyond The Hills
½
'Beyond the Hills'. Incited way too much frustration with its whiny protagonist that overshadowed anything it was saying about love.
½
The film meticulously, intelligently lays out all of the facts, relationships, and points of view of this strange modern horror story very democratically and compassionately. The result is brittle with realism: chilling, compelling (despite its at times desperately slow pace), and extremely thought provoking. It's incredibly well acted and filmed in solemn, carefully orchestrated one-shot scenes, but the result, despite utterly convincing intimacy and humanity, can seem almost too expositional, laying out the story's parts almost as if to a philosophical jury rather than a human viewer. The result was a film I admired more than I actually loved. Nonetheless, a unique and remarkable film, and one with undoubted power.
Louis Rogers
Super Reviewer
Mungiu delivers yet another powerful and nerve-wracking film that is bound to leave you totally drained by the end of it. Though also a bit unnecessarily repetitive after a while, it is nevertheless a challenging, devastating drama about liberty, devotion, security and obsession.
Carlos Magalhães
Super Reviewer
Beyond The Hills Quotes
There are no approved quotes yet for this movie.