Beyond the Time Barrier
(1960)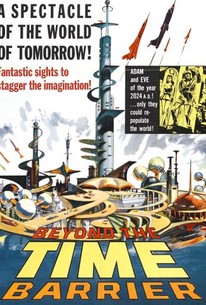 Beyond the Time Barrier Videos
Beyond the Time Barrier Photos
Movie Info
Low-budget science-fictioner in which a test pilot attains a speed that propells him into the future, where he discovers that humanity now lives in an underground society which is dominated by an evil despot.
Critic Reviews for Beyond the Time Barrier
Audience Reviews for Beyond the Time Barrier
There's some interesting stuff going on, but the execution is lacking and the characters get pretty bland. The cheap sets are fun to look at and the futuristic concepts are kind of neat, though the film isn't the most memorable time-traveling tale out there.
Wes Shad
½
An air force pilot is testing an experimental aircraft when he loses contact with the airbase. Upon returning to the ground he comes to realize he has traveled forward in time many decades via a wormhole. Others from the past exist in this dystopian future as they have accidentally traveled via separate wormholes. The humans all live underground, safe from the marauding mutants roaming the earth. Very much a B-movie in acting, direction, sets, and script. An interesting concept which could have been done much better.
D M
The science part that sets this pic into motion is actually pretty cool and well thought but the execution is lame, with cardboard sets that are horrible to look at and it just drags forever and ever, never really going anywhere or giving any decent payoff in the end. This what b-movies in the 60s looked like.
Francisco Godinho
Super Reviewer
Beyond the Time Barrier Quotes
There are no approved quotes yet for this movie.
Discussion Forum
Discuss Beyond the Time Barrier on our Movie forum!