Beyond the Wall of Sleep
(2004)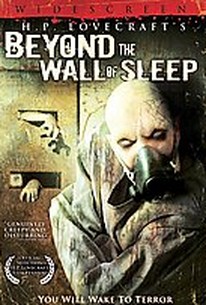 AUDIENCE SCORE
Critic Consensus: No consensus yet.
Critic Reviews for Beyond the Wall of Sleep
There are no critic reviews yet for Beyond the Wall of Sleep. Keep checking Rotten Tomatoes for updates!
Audience Reviews for Beyond the Wall of Sleep
½
Wow....not what I expected. At all. I thought it would be like any other cheesey b-movie...but It wasn't. The whole thing was in black and white, and it was an old classic story by H.P. Lovecraft. I really liked the way they filmed this movie as like an old 50's black and white film, i thought that was pretty clever. The story itself was pretty interesting, but it did have some bad acting and special effects, but that's the way all old scholl horror films should be. I'd say this film is pretty much a full-length "Twilight Zone" episode.
Jacob Palacio
Super Reviewer
This movie is so bad that it must have been written by the inbred hicks that are a part of the film. It is an insult to HP Lovecraft.
Colton Faucette
A little under the weather, so let's get right to business: [b]Casino Royale[/b] [img]http://i27.photobucket.com/albums/c154/jcs5/royale5.jpg[/img][img]http://i27.photobucket.com/albums/c154/jcs5/royale4.jpg[/img] is every bit as good as you've heard it was, and not just because of [b]The Dreamers[/b]' Eva Green (or as Emily refers to her, New Mommy #4) - in fact, for as pivotal role as her character plays in the story, she shows up kinda late in the game. Daniel Craig does a fine job showing how James got the 00 in his 007, and the chase scenes are excellent (esp. the first one). The only problem I had was the gambling, which effectively ground things to a halt every time. Is it the best Bond ever? I grew up in the 80s - much to my parents' dismay, [b]For Your Eyes Only [/b]was my idea of a good Bond flick - so I may not be the best one to judge. [b]Beyond the Wall of Sleep[/b] [b][img]http://i27.photobucket.com/albums/c154/jcs5/joe2-1024x768.jpg[/img][/b] was a whim of a rental based mainly on its H.P. Lovecraft pedigree and Tom Savini's name on the box (too bad he's barely in it). When [b]Re-Animator [/b]came out, it convinced me that I loved Lovecraft, then I actually read some. Turns out there's not a lot of dismembered heads going down on buxom blondes, but I ended up liking it for different reasons altogether. [b]Beyond The Wall of Sleep [/b]makes a valiant effort trying to capture the horrors that are actually on the page (+ some boobs for good measure), and I thought the end was great. Unfortunately, the whole thing looks terrible and is difficult to recommend to anyone who's not already a fan of Lovecraft. I wish they'd had the budget to do this right, or that they could've found a way to work around its limitations. I checked out [b]The Believer[/b] [img]http://i27.photobucket.com/albums/c154/jcs5/believer2.jpg[/img] strictly based on Ryan Gosling's performance in [b]Half Nelson[/b]. And he's great here, too, as a Jewish Nazi. The idea starts out intriguingly enough, but just kind of wandered around towards its inevitable conclusion. [b] The Believer [/b]never really told me a story, I guess, and I like when a movie tells me a story.
Josh Sprinkle
Beyond the Wall of Sleep Quotes
There are no approved quotes yet for this movie.
Discussion Forum
Discuss Beyond the Wall of Sleep on our Movie forum!