Beyond the Wall of Sleep
(2006)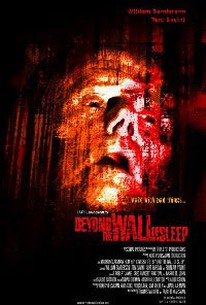 AUDIENCE SCORE
Critic Consensus: No consensus yet.
Beyond the Wall of Sleep Videos
Beyond the Wall of Sleep Photos
Movie Info
The brutal murder of a Catskill Mountains family sets into motion a terrifying sequence of events as the horrors of H.P. Lovecraft come to the screen courtesy of directors Barrett J. Leigh and Thom Maurer. The year is 1908, and a mountain man named Joe Slaader has just committed the ultimate atrocity. Committed to the Ulster County Asylum after murdering his entire family, the man with the mysterious growth on his back is seen by the studied doctors of the facility as the harbinger of the dark days to come. When the inmates of the asylum decide to turn on their captors and wrestle away control of the remote asylum, the strange events that follow precede the ominous arrival of a dark force that the mind of man may not hold the power to comprehend.
Critic Reviews for Beyond the Wall of Sleep
There are no critic reviews yet for Beyond the Wall of Sleep. Keep checking Rotten Tomatoes for updates!
Audience Reviews for Beyond the Wall of Sleep
Purchasing this PIECE OF SHIT is a perfect example of why I'm now a NETFLIX subscriber. A BAD script filmed by a BAD director using BAD actors with BAD special effects is a perfect recipe for DISASTER! Kids, take Big Daddy Bojanglz advice and stay clear of this insult to the great H. P. LOVECRAFT. Oh, and if you see anyone who had anything to do with the making of this movie please let me know so I can kick their fuckin' ass and get my money back. BOO!
Wayne Takabayashi
½
Tack another to the wall of shame. It's sad to see such a great iconic author such as H.P. Lovecraft associated with bad films. I guess nobody at this point has figured out that you cannot recreate his writings to accommodate the screen. Few have tried and succeeded. From Beyond and Re-Animator did in my opinion. Mostly because they were more comedies than horror films. From Beyond much less than the later but good none-the-less.
Immortal Disciple
½
Horriable Movie! I hated every moment of this movie. Most of it is in black and white. I guesse what the filmakers where trying to do was give it a creppy feel to it. Well guess what, they failed on every level. The plot was so lame, and boring as hell.
Beyond the Wall of Sleep Quotes
There are no approved quotes yet for this movie.
Discussion Forum
Discuss Beyond the Wall of Sleep on our Movie forum!