Beyond Therapy
(1987)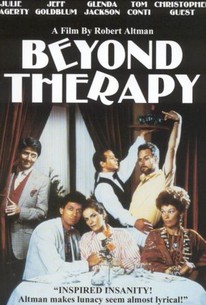 Movie Info
Based on the play by Christopher Durang, Robert Altman's Beyond Therapy is a comedy set in New York City but filmed in Paris, where Altman was living at the time. Arrogant Bruce (Jeff Goldblum) grows bored with his live-in lover, Bob (Christopher Guest), so he looks for a change by placing an ad in the personals. He meets neurotic Prudence (Julie Hagerty) at a French restaurant and they prove to be a terrible match-up. Then Bruce goes to see his therapist, Charlotte (Glenda Jackson), who has a strange disorder herself. In the same building, Prudence goes to see her own bizarre therapist, Stuart (Tom Conti), who believes in sex with his patients. Charlotte and Stuart also have an arrangement where they meet for anonymous sexual trysts. Meanwhile, Bob's mother (Genevieve Page) is worried about her son's relationship with Bruce and she interferes with everything.
Critic Reviews for Beyond Therapy
Audience Reviews for Beyond Therapy
★1/2 (out of four) Director Robert Altman is among my Top Five favorite directors of all time. So it pains me to give such a horrible review to one of his movies. But, "Beyond Therapy" is beyond praise. It may hold the distinction of being Altman's worst film of his career. Jeff Goldblum plays a successful New Yorker who has grown tired of his live-in partner (Christopher Guest). He takes out an ad in the personals section and begins seeing a perky young woman (Lulie Hagerty) They turn out to be a terrible match. [IMG]http://img.photobucket.com/albums/v48/Zeppo1/BeyondTherapy.jpg[/IMG] Based on the play, the set-up just doesn't work and Altman's usual free-flowing dialogue and structure feels out of place in the constructed story.
Steve Smith
½
In the 1980s Robert Altman released a string of films that were based on popular plays, "Beyond Therapy" was one of them. While the film has some laugh out loud moments, some very funny dialogue and extremely spirited and zany performances, Altman's lack of narrative focus ultimately hurts the film. Altman's directorial voice is lost here, because in all honesty, this seems like a direct copy of a Woody Allen picture. There isn't much originality to speak of. Plus, with a film that contains such an array of wackos, you need something for the audience to ground themselves in, and "Beyond Therapy" has none of that- no every man, no coherent arc. This is a funny but extremely unfocused and messy film.
Steven Carrier
Super Reviewer
½
It's hard to muck up Jeff Goldblum and Christopher Guest (though Guest would later perfect this gay character in Waiting or Guffman), but the material is extremely hit or miss, and when it misses, oh boy. Altman has fun with cutaways to a weird Michael Berryman lookin' motherfucker in the restaurant scenes, but aside from that he doesn't do much to lift up the material... no, actually, there's a really friggin' bizarre climactic slow-motion shoot-out that goes on for so long it comments on itself, which is nice, but then is brought to a halt by the very unfunny Julie Hagerty. There's a reason now, I guess, I only know her from Airplane!
Jack Gattanella
Beyond Therapy Quotes
There are no approved quotes yet for this movie.
Discussion Forum
Discuss Beyond Therapy on our Movie forum!