Bicycle Thieves (Ladri di biciclette)
(1949)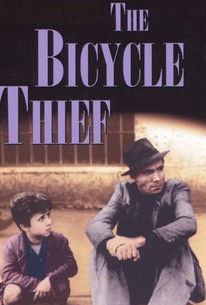 Bicycle Thieves (Ladri di biciclette) Videos
Bicycle Thieves (Ladri di biciclette) Photos
Movie Info
This landmark Italian neorealist drama became one of the best-known and most widely acclaimed European movies, including a special Academy Award as "most outstanding foreign film" seven years before that Oscar category existed. Written primarily by neorealist pioneer Cesare Zavattini and directed by Vittorio DeSica, also one of the movement's main forces, the movie featured all the hallmarks of the neorealist style: a simple story about the lives of ordinary people, outdoor shooting and lighting, non-actors mixed together with actors, and a focus on social problems in the aftermath of World War II. Lamberto Maggiorani plays Antonio, an unemployed man who finds a coveted job that requires a bicycle. When it is stolen on his first day of work, Antonio and his young son Bruno (Enzo Staiola) begin a frantic search, learning valuable lessons along the way. The movie focuses on both the relationship between the father and the son and the larger framework of poverty and unemployment in postwar Italy. As in such other classic films as Shoeshine (1946), Umberto D. (1952), and his late masterpiece The Garden of the Finzi-Continis (1971), DeSica focuses on the ordinary details of ordinary lives as a way to dramatize wider social issues. As a result, The Bicycle Thief works as a sentimental study of a father and son, a historical document, a social statement, and a record of one of the century's most influential film movements.
News & Interviews for Bicycle Thieves (Ladri di biciclette)
Critic Reviews for Bicycle Thieves (Ladri di biciclette)
Audience Reviews for Bicycle Thieves (Ladri di biciclette)
Humorous, poignant and heartbreaking, this wonderful gem of Italian neorealism deserves every bit of its long-lasting reputation as a classic and unforgettable social statement, and it is always beautiful to see how it eschews any sentimentality and remains always honest in its emotions.
Carlos Magalhães
Super Reviewer
This neo-surrealist Italian masterpiece from filmmaker Vittorio de Sica is a classic by many standards and remains one of the top films of the century. The flawless link between the socio-economic problems of a post-World War II Italy and the criminal leanings of the disenfranchised peoples of that country are melded seamlessly. Looking at just one family during this period, the film follows the breadwinner Antonio Ricci (Maggiorani) around town as he tries to find his stolen bicycle. He has his young son (Staiola) in tow which makes it that much more humiliating when it becomes almost impossible for him to find it anywhere, whether he's perusing the marketplace or hunting down the thief himself. He becomes more unsettled as the day wears on, because he needs the transportation in order to keep a job, and the world around him seems to be more concerned with revolt and propaganda than real world solutions. The film speaks volumes about how crime is elicited by people based on their neediness and the fact that most crime stems from the government's inattention to societal problems. Italy was in a shambles after the deconstruction of Mussolini's government, and at this time there was a large gap between the rich and poor. Besides speaking about Italy's problems in particular, this film also speaks about the origins of crime itself. There is no villain to the story about the stolen bicycle, only a narrative about the state of life for the people who steal and are stolen from. Both sides are getting screwed overall, but one decides to take a different path to gain agency. Having his son with him seriously makes this a tearjerker on top of everything, because he has been thieved from, and left to take care of his family with absolutely nothing. It really makes you think about the complexities of the human condition and how people truly see welfare. It tells a universal and yet very sad story and it does so in a heart wrenching and poignant way.
Spencer S.
Super Reviewer
The Bicycle Thief (I prefer the singular) is one of the assumed classics that feel totally fresh and relevant from the first frame and don't need DVD commentary notes to explain it to a modern audience. It's a simple, perfect story that is gripping all the way through and beautiful to look at in every shot. In post war Rome, a the patriarch of a poverty stricken family gets a job that requires a bicycle. On the first day on the job, the bike is stolen and Dad and his 8 year old son Bruno try to look for the culprit, which is a needle in the haystack of Rome's mean streets. On their search, they encounter homeless men in a church soup kitchen, a brothel, and a restaurant where the father and son are looked down on by snooty rich folks. That's it. The complexity is contained in the father/son relationship, which is loving, but presented with no sentimentality. The father is so obsessed with finding the bike, that he ignores his son, impatiently hits him, and comes dangerously close to losing him numerous times. He learns his lesson and reprioritizes in the end when his son becomes his savior and redeemer. The roles are filled by non actors. De Sica gets terrific performances out of all of them, especially the little round faced son. Though considered one of the landmarks of Italian neo-realism, this film does not feel like a gritty documentary. The shots are superbly composed, the film uses dramatic camera moves, including dolly shots, as well as a staged rain storm. The movement of people through the film is seamless and organic, yet almost balletic. The film is generous to all its characters, no one is a bad guy, they're all just rying to survive. I don't think I could ever get sick of this film. Its qualities have transcended the slightly Marxist intentions of its filmmakers and its setting to become something universal and timeless. The new Criterion collection remaster looks spectacular and nothing less should be screened. Enjoy.
Josh Morris
Super Reviewer
Bicycle Thieves (Ladri di biciclette) Quotes
| | |
| --- | --- |
| Bajocco: | By the way. What marc was it? |
| Bruno Ricci: | A fides. Frame number: 12033 |
| | |
| --- | --- |
| Antonio Ricci: | Thief! Thief! Stop him! |