Big Foot: The Lost Coast Tapes
(2012)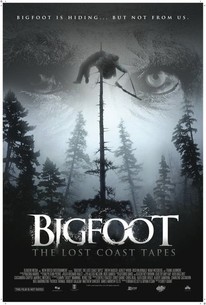 Big Foot: The Lost Coast Tapes Videos
Big Foot: The Lost Coast Tapes Photos
Movie Info
After a "Bigfoot Hunter" claims to possess the body of a dead Sasquatch, a disgraced investigative journalist stakes his comeback -- and the lives of his documentary film crew -- on proving the find to be a hoax. (C) Official Site
Rating:
NR
Genre:
,
Directed By:
Written By:
In Theaters:
On DVD:
Runtime:
Studio:
Critic Reviews for Big Foot: The Lost Coast Tapes
Audience Reviews for Big Foot: The Lost Coast Tapes
½
"The Lost Coast Tapes" is a well crafted found footage styled horror movie that chronicles a small crew of Independent documentarians on a hoax busting quest to Northern California. Directed by Cory Grant the film gives a small breath of new life into the saturated and drowning genre of unintentional documentary tragedies that have inundated the horror and sci-fi genre lately. It stars Drew Rausch, Rich McDonald as two almost symbiotic frat brother styled post grad douche's that grow on you in their fun loving, life-by-the-balls, quick wit personalities that really complete each other a little too well to be your average bromance. It works though, these two actors play their parts effortlessly with believable banter. Finished off by Ashley Wood and Noah Weisberg, a earth-mother-techno-pagan ex-girlfriend and the poor shmuck who got suckered in to carry sh*t and work cheap. Tying up the character balance is the ultimate outback crypto-hunter that maybe had too many wild mushrooms and probably has a few secrets in his beastial wilderness lifestyle. All these crazy personalities would normally drown each other out in a film as they vie for attention but in this film the mad-cap cast seem to be as natural as serious reality professionals. They just happen to be exploring the world of the Bigfoot, or fabrication of said beast depending on which of these characters were to be asked. I found them for the most part to be believable and in no way feel jilted out of cinema value by the black guy bailing on the job offer. When you watch this film that statement will make sense. Anyway the parts are believable and the cast seems perfectly maintained so that even the over the top reactionary moments feel natural. The tricks and effects stay within a limited use range in the film which put most of the chills on camera effects and actor portrayals. The story is steady and doesn't waver in plausibility. There is a minor irritation in the fact that this is suppose to be such a big wilderness area they are in and yet they get to locations without camera pauses within a few hundred steps. That aside the location is creepy as hell and reminds me of a few episodes of 'X-Files' with the freakiness. The creature is bare minimal in this flick so if your looking for full on monster assault then you will be disappointed but if you take the story as it is you will leave scratching your heads, thinking on a lot of cool new questions about the legends of bigfoot. For me this film is a great burst of new energy for the slowly exhausting found footage style. I wasn't disappointed by "The Lost Coast Tapes" at all.
rick russ
½
Apparently Hollywood isn't capable of producing a Bigfoot film that I can proudly to recommend to others.. So South Korea I'm looking at you!
Juli Norwood
slow, makes you think something epic is coming up, like most films these days do, but nothing happens. just a run around found footage film with nothing worth watching.
Shawn Montague
Super Reviewer
Big Foot: The Lost Coast Tapes Quotes
There are no approved quotes yet for this movie.
Discussion Forum
Discuss Big Foot: The Lost Coast Tapes on our Movie forum!