The Big Hit
(1998)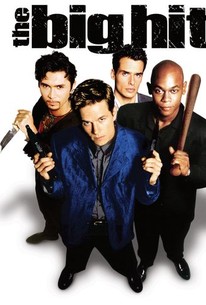 Movie Info
Kirk Wong directed this comedy actioner about mild-mannered, beleaguered hitman Melvin Smiley (Mark Wahlberg), who very much wants to be liked. However, the naive Mel is being taken advantage of by both his girlfriends and associates (who cheat him out of his bonuses). Mel and his "Odd Squad" -- Cisco (Lou Diamond Phillips), Crunch (Bokeem Woodbine), Vince (Antonio Sabato Jr.), and Gump (Robin Dunne) -- work for Paris (Avery Brooks), head of an international crime cartel and a contractor for hit jobs. Mel's mistress Chantel (Lela Rochon), who views him as a meal ticket, lives rent-free in his house, misspends his money, and is continually thinking of ways to get more from him. Her latest scheme is concocting tales about overdue mortgage and car payments, but she really wants the money to run away with her lover Sergio. Mel and his team head into a big shootout to waste some rival mobsters. One person kills the electricity; the others don night-vision goggles. Melvin handles most of the action, including shooting while bungee-bouncing near a staircase, finally making a spectacular bungee-exit from the top floors of the building just as it explodes in flames. A quick and easy weekend job backfires when their kidnap victim, a rich industrialist's teenage daughter Keiko Nishi (China Chow), turns out to be the godchild of their boss, crime czar Paris. When Cisco, mastermind of the plan, is summoned by Paris, he manages to shift blame to Mel. Meanwhile, Chantel absconds with Mel's earnings just as the disapproving parents (Elliott Gould, Lainie Kazan) of Mel's fiancee Pam (Christina Applegate) are due for a visit. Since Pam gave her parents $50,000 from Mel's bank account, they're on their way to thank him and hopefully benefit from another financial windfall. As his professional and domestic woes collide, Mel finds himself dodging bullets while trying to impress his potential in-laws. Throw in an overzealous video-store clerk demanding the return of an overdue tape (King Kong Returns), and it's not long before Mel's life starts to unravel.
Critic Reviews for The Big Hit
Audience Reviews for The Big Hit
Melvin: The truth is, I can't handle the idea of her not liking me. I can't handle the idea of ANYBODY not liking me. Cisco: Hey Melvin, the hundred or so people you've killed in the last five years, more than likely have families that don't think too highly of you. I Always have fun watching this movie, a hit-man comedy that is self-aware, never taking itself seriously, and full of some cool action. Mark Wahlberg is a "nice" hitman, who just wants everyone to be copacetic. He has money problems due to his fiance and his bloodsucking girlfriend. Other subplots involving the discovery of masturbation, acceptance of different religions, and kidnapping, what a joy. The action scenes go back and forth between very cool and ridiculously over the top. More random humor to follow as well (all signs point to the tracebuster-buster). Cisco: Well ain't that a bitch... All I wanted to do was to sail my boat, man, you know? Navigate by the stars, see dolphins race alongside, you know, maybe even kill a few of them. The cast also includes Lou Diamond Phillips, Christina Applegate, Avery Brooks, and Elliot Gould, further fueliing the absurdity. Paris: What would you do to someone, who was fucking with you in your own house? Cisco: I'd bust some caps! My absolute favorite Guilty Pleasure movie, even more so than Starship Troopers. Melvin Smiley: Technically, you can call me a hitman. Keiko Nishi: Really? A hitman? Does that pay well? Melvin Smiley: Oh of course. I make a killing.
Aaron Neuwirth
Super Reviewer
Hollywood failing once more in trying to replicate Hong Kong action/crime flicks.
Tsubaki Sanjuro
Super Reviewer
½
Hey Hey! Now that Ive FINALLY got the DVD, I can do a proper review! Man, they dont make them like they used to. All the overblown, adrenalin charged action scenes, the grace and beauty not just in the choreography but in the number of bullets and explosions one can throw in. Those were the good ole days, and along with movies like Face Off, Broken Arrow and Replacement Killers, this sorta ventures into the Action/Comedy zone, and does pretty well, I loved it. I guess this is the movie which bought Mark Wahlberg into the action genre, playing the too nice hit man, in contrast to the devilish Lou Diamond Phillips, who was hilarious as the out of control killer. Aside from the director Kirk Wong (Crime Story), the movie was produced by John Woo and Wesley Snipes, so the action shines, and not too much fancy pants stuff, just some slick moves and fight scenes and interesting comedy moments, some which were stolen from other movies, but of course, who gives a F? im having too much fun watching it. And for all action/Hong Kong style fans, so would you.
The Big Hit Quotes
There are no approved quotes yet for this movie.