The Big Street
(1942)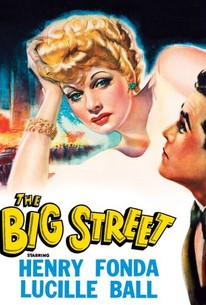 AUDIENCE SCORE
Critic Consensus: No consensus yet.
Movie Info
Lucille Ball delivers the finest dramatic performance of her career in this satisfying adaptation of Damon Runyon's The Big Street. Ball is cast as Gloria, aka "Your Highness," the vain and thoroughly selfish star attraction of gangster Case Ables' (Barton MacLaine) New York nightclub. Henry Fonda costars as busboy Little Pinks, who worships Gloria from afar. When Gloria is crippled by a fall downstairs-caused by a blow across the face by the sadistic Ables-Little Pinks selflessly waits upon the invalided and doggedly ungrateful songstress hand and foot. So devoted to Gloria is Pinks that he's willing to pilot her wheelchair from Manhattan to Florida so that she can renew her romance with callow playboy Decatur Reed (William Orr). Touched by Pinks' loyalty, his Runyonesque friends-Professor B (Ray Collins), Horsethief (Sam Levene), Mr. and Mrs. Nicely-Nicely Johnson (Eugene Pallette, Agnes Moorehead) and all the rest-raise enough money to open a Florida nightclub so that Gloria can put up a brave front. The ending is at once the most lachrymose and most effectively moving scene in the film, one that can only be spoiled if detailed here. Produced by Damon Runyon himself, The Big Street is one of the few completely successful filmed Runyon adaptations-as well as Lucille Ball's finest hour (and a half) on-screen.
Rating:
NR
Genre:
, ,
Directed By:
Written By:
In Theaters:
On DVD:
Runtime:
Studio:
RKO Pictures
Audience Reviews for The Big Street
This is Lucille Ball's Favorite Movie Role, she had every reason to be proud of this performance.Once the Toast of NYC Night Club Celebrity,Gloria, nicknamed "Your Highness" was once a Gangsters Moll, till he slapped her & she tumbled down the stairs, ending up Wheel Chair Bound.All the Men who buzzed about her, gave up on her.But a Bus Boy, Little Pinks Pinkerton (Henry Fonda) stands by her, ill manned, ill tempered, just plain ill .He wheels her in her Wheel Chair with a combo of Hitch Hiking & Walking to Florida.He Begs, Borrows, & Steals for her & she still remains Selfish & Nasty.He throws a High Society Party for her in a Stolen Dress & Jewels, & risks imprisonment all just to make her Dreams Come True.This is a 2 Kleenex Box Movie that will remain in your heart forever.WOW
Marilee Aschwanden
Sensational movie, I'm a HUGE Lucy fan and this is some of her best work its a shame that they took out a major dancing scene from the movie and the fact I cant find the song she sings in it either. But still one of my favorites.
Elizabeth Sousa
Good performances, Hard to get use to. (First Impression). 2nd viewing, didn't think it was as cheesy as the 1st. Lucy is great. Enjoyed it even more.
Gregg Donaldson
Discussion Forum
Discuss The Big Street on our Movie forum!