The Big Wheel
(1949)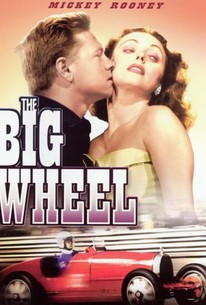 AUDIENCE SCORE
Critic Consensus: No consensus yet.
Movie Info
In this film, Mickey Rooney plays Billy Coy, a garage mechanic who matriculates into a champion race-car driver. On the way to the top, he steps on friends and foes alike. He even manages to briefly alienate his saintly mother. It takes some doing, but Billy finally redeems himself.
Audience Reviews for The Big Wheel
The first picture of Mickey's decline from stardom after the previous year's Words and Music where his terrible performance pretty much ended his tenure at MGM. It's fitting that it's a racing movie because it's a skid picture for the Mick without question. After years of the plush surroundings at Metro this low budget loser must have come as a rude shock. He's overly earnest as was typical of his starring career which was endurable in parts where he was the brash teenage Andy Hardy and similar roles but as he aged became arch and annoying. The story is standard cocky hothead knocked down a few pegs until his learns the necessary life lessons junk but if you're a race fan and don't mind the obvious rear projection shots it a certain entertainment value. What's great about these old Hollywood films is that even in an economy production like this the film is full of quality character actors who had more latitude in moving between studios, genres and types of productions. This one has a supporting cast better than it deserves with three greats in the cast, Spring Byington, Thomas Mitchell and in a small part Hattie McDaniel, this was her last theatrical feature.
If you have no interest in the auto racing of bygone days, The Big Wheel probably won't do much for you. In 2012 it constitutes a niche film most noteworthy for its historically accurate portrayal of American open-wheel racing in the late 40s. But if that subject interests you, The Big Wheel is a must see. The film effectively portrays the drama and danger of racing in that era, as well as the rough-and-ready characters who confronted its hazards in order to obtain gold and glory. The Big Wheel, through lead character Billy Coy's mother, also shows the torment that plagued racing wives and mothers. All in all, The Big Wheel is a valuable lens onto a fascinating aspect of American history that is rapidly disappearing down the memory hole.
Joseph Yeager
NIFTY LITTLE B MOVIE, WITH A GOOD CAST. MICKEY ROONEY, SPRING BYINGTON AND THOMAS MITCHELL DO A GOOD JOB. HATTIE MC DANIEL HAS A SMALL BUT FUN ROLE. THE STORY IS ABOUT RACE CAR DRIVING.
James Higgins
The Big Wheel Quotes
There are no approved quotes yet for this movie.
Discussion Forum
Discuss The Big Wheel on our Movie forum!