Billy Madison
(1995)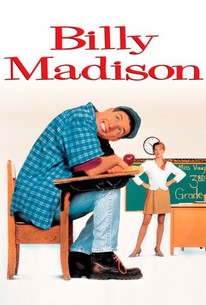 Movie Info
Master of infantilism Adam Sandler stars as the title character, an overgrown rich kid who wiles away his days poolside, swilling kegs of beer and appreciating fine nudie magazines such as "Drunk Chicks" -- that is, until his father (Darren McGavin) decides to test his mettle as future head of the family business by posing a challenge: retake and pass grades K-12 in 24 weeks or watch control of the business pass to the requisite conniving underling (Bradley Whitford). Forced into action, Billy vows to change his drunken ways. He enrolls in kindergarten, makes new friends, pelts pint-sized kids with playground balls and develops a love interest in a pretty teacher (Bridgitte Wilson). The action culminates in an academic showdown between Billy and the purportedly Harvard-educated underling for the future of the family enterprise -- no small feat for a man fresh out of the first grade. There's gross, moronic, off-color low humor galore in Billy Madison, particularly in one subplot involving a romantically forward elementary school principal (Josh Mostel, son of theater great Zero Mostel) and his secret former life as a professional wrestler; another scene includes the hypertense school bus driver (Chris Farley, in a typical over-the-top cameo) lying in the meadow with a hallucinatory penguin. As one might suspect, Billy Madison is not for every taste; Sandler fans will laugh from start to finish; others beware. ~ Jeremy Beday, Rovi
Rating:
PG-13 (for language and crude humor.)
Genre:
Directed By:
Written By:
In Theaters:
On DVD:
Runtime:
Studio:
MCA Universal Home Video
News & Interviews for Billy Madison
Critic Reviews for Billy Madison
Audience Reviews for Billy Madison
Though its jokes are of stupidity and grade-school humor, Billy Madison is a decent comedy from the creation of Adam Sandler. The film is immature and has memorable quotes/scenes that die-hard Sandler fans will remember. 4/5
Eugene Bernabe
Super Reviewer
Childish and immature - but then again, what Sandler comedy isn't? I've seen better by him, like Click and Happy Gilmore, but I've also seen a lot worse like Grown Ups and The Waterboy. As long as you can cope with its stupidity, it's pretty fun and enjoyable. Nothing that will make it into my film collection, but not a bad way to spend the evening. Worth seeing just for the hilarious cameo by Steve Buscemi.
½
[img]http://images.rottentomatoes.com/images/user/icons/icon13.gif[/img] One of the earliest Adam Sandler comedy vehicles is the highly over rated Billy Madison. To put it simple, it's a childish comedy with the occasional morsel of charm and a few good laughs. It's at best, mildly amusing because the film gets sillier at every turn rather than getting any funnier. I prefer Happy Gilmore because the character suited Sandler better and the film itself was a little less moronic, smarter, had a lot of memorable scenes and was more ambitious. Billy Madison at times, because of it's stupidity, is just uncomfortable to watch.
Directors Cat
Super Reviewer
Billy Madison Quotes
| | |
| --- | --- |
| O'Doyle (Grade 1): | Mortal Kombat on the Sega Genesis. It's the best video game ever. |
| Billy Madison: | I disagree, it's a very good game but I think Donkey Kong is the best game ever. |
| O'Doyle (Grade 1): | Donkey Kong sucks! |
| Billy Madison: | You know something? You suck! |
| | |
| --- | --- |
| Tour Guide: | I'll tell you who it was, it was that damned Sasquatch |
| Tour Guide: | I'll tell you who it was, it was that damned Sasquatch. |
| | |
| --- | --- |
| Billy Madison: | WHERE'S MY SNACK PACK?! |
| Billy Madison: | Where's my snack pack! |
| Juanita: | I thought I was yo snack pack?? |
| Juanita: | I thought I was your snack pack? |