Billy Rose's Jumbo
(1962)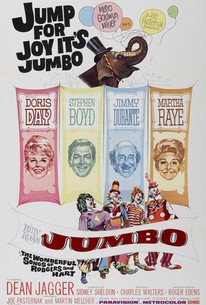 AUDIENCE SCORE
Critic Consensus: No consensus yet.
Billy Rose's Jumbo Videos
Movie Info
Inasmuch as the spectacular Richard Rodgers and Lorenz Hart Broadway musical Jumbo was written in 1935, this 1962 film version can't help but seem a little quaint. Still, the film features the original production's star Jimmy Durante, energetically recreating his stage role as circus owner Pop Wonder; it is Durante's bravura performance that saves the film from dullness. Threatened with foreclosure, Pop Wonder and his pretty daughter Kitty (Doris Day) put their fates in the hands of go-getter Sam Rawlins (Stephen Boyd). What they don't know is that Sam is the son of Pop's biggest rival (Dean Jagger), and he's been sent to undermine the Wonder Circus. It goes without saying that Sam turns the tables on his dad, thereby saving the day and winning Kitty's hand. Martha Raye shows up as Lulu, a fortune teller who can't figure out what's going to happen next (funny, we can). And of course there's Jumbo the elephant, who figures into the film's funniest scene (as well as one of Jimmy Durante's most celebrated punchlines). Old MGM musical hands Charles Walters and Busby Berkeley share directing chores, but somehow the film hasn't the panache of their earlier work. Happily, most of the Rodgers-Hart songs are retained, including "My Romance" and "The Most Beautiful Girl in the World"-not to mention a few Rodgers-Hart tunes borrowed from other show, e.g. "This Can't Be Love". ~ Hal Erickson, Rovi
Rating:
G
Genre:
, , , ,
Directed By:
Written By:
In Theaters:
On DVD:
Runtime:
Studio:
MGM Home Entertainment
Audience Reviews for Billy Rose's Jumbo
½
★★1/2 (out of four) A big, showy musical that seems a bit out of place in the changing 1960's landscape. It harkens back to an earlier era which proves to be both charming and hokey all at once. Jimmy Durante plays Pop Wonder, owner of the Wonder Circus. His daughter, Kitty (Doris Day) runs it with him. She finds herself falling for a charming go-getter (Stephen Boyd) who promises big things for the circus. But he is really the son of a rival circus. Jimmy Durante is good and helps liven things up considerably, but he can't quite save the film from its own silly dullness. [IMG]http://img.photobucket.com/albums/v48/Zeppo1/BillyRosesJumbo.jpg[/IMG]
Steve Smith
The circus hijinks are fun, though awfully predictable (the elephant (the titular Jumbo) is hidden in a bale of hay!), and none of the songs get anywhere near classic status.
Lee Mayo
No Matter How Long You Make the Sequence, Clowns Still Aren't Funny This movie makes no sense to me. It seems that the basic premise of circus movies--not that I've seen a lot of circus movies--is "circuses make no money, but people love them!" Which doesn't make any sense. Disney suggested that, while circuses themselves do, the likes of Toby Tyler don't, particularly, until they become headliners. But Doris Day and Charlton Heston have both spent epics trying to make both ends meet despite sold-out houses. Even though Doris Day can apparently afford to keep her elephant as the only one in the entire circuit not helping to put up the Big Top. (You think they can afford to let that go to waste?) At least she had the excuse of gambling addict Jimmy Durante. Durante is Pop Wonder, who allegedly runs a circus. In reality, his daughter, Kitty, does it. She is Doris Day in every way including but not limited to actress, and the cheerful, competent version. She handles the money, the acts, the labour, and all. She sweet-talks Lulu (Martha Raye), her father's girlfriend, and hires Sam Rawlins (Stephen Boyd) because she has to--everyone in the circus is quitting on account of not getting paid and going off to work for John Noble (Dean Jagger--no relation, but he did appear in an Elvis movie once). Sam is secretly Noble's son, working in a duplicitous manner to buy up the Wonder Circus by paying off Pops's creditors in the name of the Noble Circus. Of course, he and Doris Day fall in love with one another, causing the standard complications. Once again, we have the failing of too much wackiness. I'm perfectly aware that the genre is, after all, called "musical comedy," but very, very seldom does that mean it's appropriate to throw in a failed human cannonball act. Martha Raye and Jimmy Durante spend most of the movie mugging for all their worth. I'm aware it's their shtick, but it wears on the nerves after a while. Jimmy Durante is supposed to be charming, but really, I didn't think he was. He was irritating and irresponsible. If it hadn't been Noble taking his circus, it would have been creditors less concerned about his people. It's supposed to be funny that he's trying to double or triple their money at a craps game and that Doris Day has to play craps to get their money back, but it just makes you wish they had an accountant and weren't allowed to handle money on their own. Also perplexing is why Doris Day is wearing skirts the whole time. I'm not entirely sure when the movie is set, but what she wears while working is impractical. I'm aware she's Doris Day, sweet and pure, but she was sweet and pure as not-actually-Calamity Jane, and that was in pants. She somehow owns a ridiculous dress--which couldn't be a costume in an act--which she can use to impress the man, and it's funny when she falls down and gets all covered in mud. Doris Day is to be pursued, not to do the pursuing. That's Martha Raye's job. For decades, Doris Day played the innocent one--who was it who said that he'd known her since before she was a virgin?--and that includes looking feminine when a pair of overalls would make more sense. The problem may well be that I'm watching the film through jaded modern eyes. However, what am I to do about that? I can see films as products of their time, but I am still coming at them with my own mindset. Maybe, in 1962, a five-minute or longer sequence of clowns was funny, and it's just since we've become, seriously or not, terrified of clowns as a culture that they aren't anymore. I mean, we honest-to-Gods have a word for an unreasonable fear of clowns, and who can't recall Bart Simpson's "big boy bed" and chant Bart's mantra? ("Can't sleep . . . clown will eat me!") At best, we think of drunken Krusty. I went to the circus once when I was a kid, I think, but I haven't been there in easily twenty-five or maybe even thirty years. I'm not sure most of my friends have ever been. That'll change how we see it. Maybe that's why I didn't like it.
Edith Nelson
Billy Rose's Jumbo Quotes
There are no approved quotes yet for this movie.