Billy: The Early Years
(2008)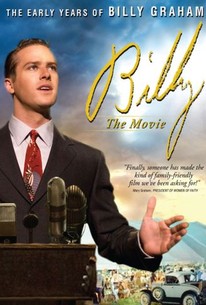 AUDIENCE SCORE
Critic Consensus: No consensus yet.
Billy: The Early Years Photos
Movie Info
Most of us know Billy Graham as the self-assured and charismatic preacher who became one of the most important figures of 20th Century Christianity. Now, with the release of Billy: The Early Years, we meet Billy as the earnest and promising young man at the crossroads of faith and doubt, ultimately facing the moment of decision that launched one of history's most powerful evangelistic careers. Most compellingly, "Billy: The Early Years" paints its portrait of Graham against the backdrop of his relationship with Charles Templeton, another gifted young preacher who's faith could not withstand the onslaught of scientific skepticism. He and Graham parted ways and in the film, Templeton comes to personify the rising tide of disbelief into which Graham launched his crusades.
Critic Reviews for Billy: The Early Years
All Critics (3) | Top Critics (1) | Fresh (0) | Rotten (3)
That's the real shortcoming here. A bland leading man in a movie without much of a biographical spark to it makes for a dull sermon indeed.

Orlando Sentinel
Top Critic
Hammer does a credible Graham impression, but if the script isn't up to snuff, none of the other stuff matters. And this particular screenplay is nowhere close to that.

Audience Reviews for Billy: The Early Years
½
Not particularly thrilled by this kind of Stateside legendary, nevertheless, the film has toned it down & made it light quite a bit already.
WS Wu
Given the somewhat lame title, I expected to be bored by this movie. However, I found the film to be both surprisingly funny and deeply moving. The performances are great, the soundtrack keeps things moving along, and the conclusion is profound. It would be nice if the "critics" would give this movie a chance, and not get hung up on their predisposition to the message. "Billy the Early Years" is a well-made film and it will definitely join my DVD collection when it's available.
J King
½
I had very low expectations based on the trailers and pre-release scenes so I was completely surprised at how well the film was made. It stayed true to the characters portrayed for the most part, but didn't let the facts ruin a good story or scene. It was well-acted, beautifully shot and edited with great symbolism and foreshadowing. It honored the lives of those involved, had a decent score and soundtrack AND most importantly it clearly presented the Gospel. I have no complaints - I can't say I'd do anything differently. Of course they played up Templeton to build conflict (what's a good story without conflict?) but believe it or not his story is pretty factual as well. You just can't make this stuff up sometimes. The filmmakers still left his fate pretty open ended which I appreciate. Some events or dialogue happened earlier or later or not at all - but hey that's film. I give it an A-.
John Schroter
Billy: The Early Years Quotes
There are no approved quotes yet for this movie.
Discussion Forum
Discuss Billy: The Early Years on our Movie forum!