Billy the Kid
(1941)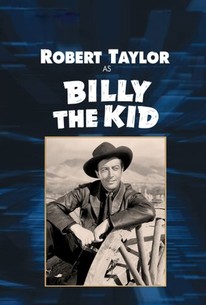 AUDIENCE SCORE
Critic Consensus: No consensus yet.
Movie Info
The famous outlaw rides again in this fictionalized western that chronicles Billy's turn from criminal to fine upstanding citizen. The film received an Oscar nomination for its color cinematography.
Critic Reviews for Billy the Kid
All Critics (2) | Fresh (1) | Rotten (1)
...first time documaker [Jennifer] Venditti, with the charismatic and volatile Billy, keeps it interesting from start to finish.

A flat fictionalized rendition of Billy the Kid, with the miscast Hollywood glamor boy Robert Taylor as the lead.

Ozus' World Movie Reviews
Audience Reviews for Billy the Kid
good western i love seeing hollywood's leading men in this pic robert taylor play bad guys i just wish gary cooper would have played a bad guy.
Greg Wood
BETTER THAN AVERAGE WESTERN, VERY WELL PRODUCED. AS A BIOGRAPHY IT IS PURE HOLLYWOOD STORYTELLING, LITTLE TRUTH AND MUCH EMBELLISHMENT. BUT PUTTING THAT ASIDE, IT WAS INTERESTING WITH SOME GOOD ACTIONS SCENES AND LOCATION SCENERY.
James Higgins
½
[IMG]http://www.epinions.com/images/opti/b2/84/1047021-movie-resized200.jpg[/IMG] [COLOR=White] This movie is Billy the Kid in name only. Anyone who has any kind of fascination with the Wild West or the historical William H. Bonney would do well to shy away from this flick. Almost all of the names have been switched around, the plot shares only a marginal familiarity with the true Billy and the lead actor Robert Taylor seems better suited for playing a 1930's era Chicago gangster than he does playing one of the most famous outlaws of all time. Now that I've got my historical accuracy niggling out of the way - I still find myself unable to say many positive things about this film. But I'll give it a shot. Some of the dialogue is rather inventive - and I do actually appreciate the relationship that Billy shares with ranch herder Eric Keating. There's an interesting exchange during Keating's introduction wherein he explains to a wary-eyed Billy why he doesn't carry a gun. Keating's naiveté rests upon a mythological ideal of frontier honor - an ideal that comes with a heavy price. The movie itself is also wonderfully shot. The Technicolor treatment produces stunning visuals that can easily compare to westerns that are produced ten, fifteen, sometimes even twenty years after Billy the Kid. Sadly, there simply isn't a lot of material available for Billy the Kid enthusiasts. Again, do NOT refer to this movie if you are looking to find insight into the true story of Billy the Kid. The closest you will probably come towards finding the definitive Billy story is in the 1988 fluff film, "Young Guns" and its subsequent continuation in "Young Guns II" - and even they take great spoonfuls of poetic license with history. [/COLOR]
Brian Kurtz
Billy the Kid Quotes
There are no approved quotes yet for this movie.
Discussion Forum
Discuss Billy the Kid on our Movie forum!