Biohazard: The Alien Force
(1994)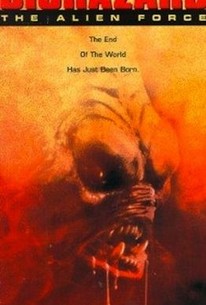 AUDIENCE SCORE
Critic Consensus: No consensus yet.
Biohazard: The Alien Force Videos
Biohazard: The Alien Force Photos
Movie Info
A genetics experiment gone wrong spawns a reptilian mutant who soon escapes and begins hunting humans for their spinal fluid. Will a newspaper reporter and security chief stop the beast before it mates with a female and offs the rest of humanity?
Critic Reviews for Biohazard: The Alien Force
There are no critic reviews yet for Biohazard: The Alien Force. Keep checking Rotten Tomatoes for updates!
Audience Reviews for Biohazard: The Alien Force
What a frigg'n joke of a movie this is. Normally I review movies that rip off decent movies and try to have their own kitschy spin on the good ideas. This movie does what I never considered. Take bad ideas from other bad movies and make them even worse. That's like taking a bad product idea like the Potty Patch and turning that into something that not only gets peed on but also doubles as a drink cooler. Not only is that a bad idea but it just doesn't make any damn sense! This movie is full of stuff like that. I think the thing that pissed me off the most about this movie is the fact that it is the same thing as Syngenor. It's not a little like Syngenor, it is Syngenor. Who wants to see Syngenor again? F@#king nobody! I want you to count how many times I say Syngenor in this review. SYNGENOR! Ok so in Biohazard: The Alien Force, aka Syngenor 2 A Baguette Full of Syngenors, the general plot outline is this. Some company, Triton industries (notice the subtle similarity to the company name in Syngenor), does the unthinkable and creates a mutant super being (Syngenor) that can supposedly survive any natural disaster. So of course what's the first thing that happens? It gets loose just like in Syngenor. So then what does it do? Well, I'll tell you. It starts hunting down the people who created it and killing them one by one just like in Syngenor. So what are people doing about it? I'll tell you. There's a news reporter and one other person trying to figure out what the mutant is, like in Syngenor. Plus there are two men and a woman within the corporate structure who are watching how things unfold and trying to recollect the mutant LIKE IN SYNGENOR! So by this point you're thinking that it can't possibly get any more like Syngenor. You would be wrong. The first thing the reporter and the other person try to do is to break into the company building and get more data on the mutant (Syngenor). Right around that time we also find out that the mutant needs to drink spinal fluid to survive, just like in flippin Syngenor. To top it all off the mutant looks exactly LIKE SYNGENOR! *VEINS POPPING OUT OF MY FACE WITH RAGE* WHY DIDN'T THEY JUST MAKE THIS THE SEQUEL TO SYNGENOR? COULDN'T THEY GET THE RIGHTS? It's so offensive to have to be subjected to this non-sense. Ok, I'm through being Mr. Angrypants. I'll just tell you some funny things, give you guys a clip or two, and let you be on your merry way. It's not like any of you are ever going to watch this movie. Here are some things I learned and some funny observations. 1. People leave floppy disks sitting out on their desk that contain top secret files. 2. You can put a 3.5" floppy into a 5.25" floppy drive and make it work? Wow, why didn't they do that in the 90's when we had those? 3. You can chuck a box of floppies at someone's face and then GTFO because getting hit with floppies leaves your target stunned giving you precious moments to escape. 4. When your GF is in bed, trying to convince you to sleep with her, don't say "Put your pants on" and hit her in the face with a pair of jeans. 5. You can pick up enough blood on the edge of a knife blade with one pass to completely fill up a mini-bar sized vodka bottle. 6. The writer took the term "genetic code" to literally mean a string of numbers which form a code. 7. You can enter someone's "genetic code" using a credit card reader. 8. The writer actually named the journalist character Nicki Carstairs. What kind of name is that? Why not name her partner Donald Boatsteps? At least then you could go for some BS consistency. 9. If you hit tree going 2 MPH your truck bed will explode thereby killing you instantly. 10. They really did put a weapon in the movie called the LOXMAN which stands for Liquid Oxygen Manned Assault Neutralizer. The only problem is all they did was write LOXMAN on a fire extinguisher and attach a backpack to it. 11. They claimed that the LOXMAN was used to kill 300,000 Iraqis in only 4 days during the Gulf War yet the effective range on the thing is like 4 feet. 12. You can clearly see that the assault rifles used by Triton corp security guards are only wooden blocks spray painted black. Which is why they don't even try to fire them when the mutant attacks them. 13. How does the mutant hunt? It "smells our genetic patterns" or codes, if you will. 14. If you really want to put someone in their place when they're bothering you all you have to do is say "It's been a long and difficult day so why don't you get the #$*Y out of my face." This movie sucks. If you want to see it ... watch Syngenor. At least then you'll see the original corporation creates a mutant which kills it's creators and drinks the spinal fluid of it's victims while being chased by a reporter movie.
Kurt Astbury
Biohazard: The Alien Force Quotes
There are no approved quotes yet for this movie.
Discussion Forum
Discuss Biohazard: The Alien Force on our Movie forum!