The Bird People in China
(1999)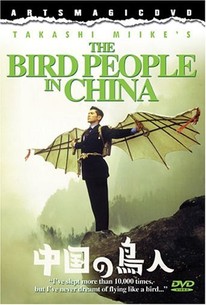 AUDIENCE SCORE
Critic Consensus: No consensus yet.
The Bird People in China Photos
Movie Info
One of Japan's hottest young directors, Takashi Miike directs this curious adventure story set in China's picturesque Yunnan province. Workaholic Tokyo salaryman Wada (Masashiro Motoki) ventures into deepest, darkest China to investigate a massive deposit of high-quality jade. Tailing him is Ujiie (Renji Ishibashi), a snarling yakuza hell-bent on getting Wada's company to repay its debts. Led by their unflappable guide, Shun (Mako), the two go through rural villages and striking landscapes, quickly leaving behind all signs of the 20th century. As the trail grows narrower and more remote and as they brave gales, bugs, and floods, the long simmering tension between Wada and Ujiie bursts into full-scale contempt. One night, after Shun gets blind drunk, he hits his head and loses his memory. Now completely lost, the trio stumbles upon a hill tribe, whose children are adorned with wings made from bamboo and paper. Their teacher, a blue-eyed woman named Yan (Li Li Wang), tells them that she is teaching them to fly. Wada quickly becomes obsessed with this curious local. After she tells him that she has a book on human-powered flight and that her grandfather was a downed British airman, he almost believes that she can teach her students to soar. Soon Wada feels purged from the evils of city life while Ujiie decides to dedicate his life to protecting the village. ~ Jonathan Crow, Rovi
Critic Reviews for The Bird People in China
Audience Reviews for The Bird People in China
½
Miike's film tells a story of wonder, of finding yourself in the most unlikely of places, and of the encroachment of modernity. While most people praise this film for its lack of brutality which permeates most of the other films in Miike's cannon, as a stand alone film I found it a little underwhelming. While I enjoyed many of the themes that this film explored, I found myself at a distant from what the characters were experiencing. There is a sense of serenity that flows over much of the film. While this makes for some beautiful moments, it unfortunately makes some of the more pivotal scenes feeling lifeless and hard to really immerse yourself in. Maybe it is a cultural thing. Could it be that all of the melodrama I ingest on a daily basis has rendered me unable to really appreciate emotions that are a little more understated? Who knows? But until I grow up a little bit or give this film another viewing, I will sadly be remembering this film with little enthusiasm.
For those who question Miike's versatility, I present Exhibit A, The Bird People in China. Genre-bending, insightful and poetic, this film displays the great humanistic touches that contradict Miike's reputation as hyper violent and sexual filmmaker. Bird People begins as a quirky, gently comic adventure story and gradually morphs into an intriguing exploration of the very nature of human emotion, loaded with symbolism, a deep, true warmth and some utterly terrific imagery. To analyze the film's rabid lust-for-life philosophy and examine the complexities of the script would take another article entirely, but in short, Miike's wild directorial flair continually pushes the question of whether technological progress, modern day civility and even spoken language itself are adversaries or allies to man's untamed desire to be free. This is achieved through a variety of reasons, but a few worth mentioning: the graceful nature in which it was shot, and Miike's trademark humor--self-deprecating, occasionally misanthropic and surreal, but ultimately biting. Perhaps what I liked most about the film was that it resisted the urge to draw a line in the sand with regards to the themes it developed. Is the film for or against the influx of technology and modernization? I think you can make a good case for both sides. That wisely keeps The Bird People in China from being too moralizing, and more... well, human.
Jonathan Hutchings
Super Reviewer
This kind of movies are hardly my type but TBPIC's approach is fun, adoring & impressive, Somehow loses its focus near the end but that's ok, This along with Happiness of Katakuris & Gozu totally changed my mind about Miike & I'll definitely check his other works
The Bird People in China Quotes
There are no approved quotes yet for this movie.