Birdemic 2: The Resurrection
(2013)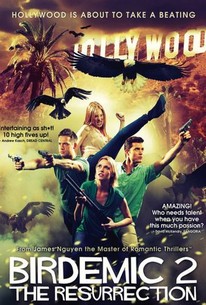 AUDIENCE SCORE
Critic Consensus: No consensus yet.
Birdemic 2: The Resurrection Photos
Movie Info
A flock of eagles and vultures wreak havoc amidst blossoming romance in Hollywood, California, leaving bloodshed and destruction wherever they hover. The story features original 'Birdemic' survivors Rod and Nathalie, who are joined by new friends - struggling filmmaker Bill, aspiring actress Gloria and several other Angelenos they encounter as they battle angry birds and a host of new enemies.
Cast
Critic Reviews for Birdemic 2: The Resurrection
All Critics (2) | Top Critics (1) | Fresh (0) | Rotten (2)
Nguyen's partial self-awareness of his new movie's camp value -- encompassing brief incorporation of zombies -- only makes it an effortful, half-understood in-joke rather than the guiltily pleasurable unintentional joke that was Birdemic: Shock and Terror.
The screwball trainwreck magic is missing, replaced with a nagging comedic consciousness that suggests Nguyen understands his specialized malarkey a little more than he's been letting on.

Audience Reviews for Birdemic 2: The Resurrection
Birdemic 2 is an almost carbon copy of the first movie. The first 10 minutes are an almost shot-for-shot remake with new characters. The plot is similarly slow and meandering (same environmental message). Somehow, the sound design hasn't improved an iota, even with a substantially larger budget. This begs the question: is director/producer/writer James Nguyen aware of how bad the first movie was, and was he deliberately plagiarizing himself to make more money, or is it not possible for him to make movies in any other way? Indeed, isn't the quintessence of so many bad movies complete unoriginality? We'll have to wait for Birdemic 3 to know for certain; in the meantime, there's still plenty of cringe to enjoy/suffer through in this unoriginal sequel.
Altered Ego
Some of the awfulness is intentional this time, put that doesn't stop the movie from being an awkward mess, in fact it makes it worse. Another flaw- it's literally just a crappier rehash of the first film! One nod to the attack in birdemic one, and then the exact same plot again! It's almost as if James N. thinks his constant plot rehashes of the first film make the movie seem clever. Birdemic 2 is without a doubt the worst film ever made. 1/100
M. C.K.
Well, here you have it, a sequel to a one of the worst films you will ever witness, and even though the effects are "more consumable" than the first, the story is just as bad and the ego that "Director" James Nguyen brings to the table is far far worse. My jaw was on the floor from boredom and the acting is too wooden to even care. The sound editing is absolutely awful and the editing in general (even though he nothing god to work with) is dreadful. I am never going to watch these movies again, because they make we feel extremely dumb inside. "Birdemic 2: The Resurrection" is a slap in the face to Hollywood, and not is a good way.
Birdemic 2: The Resurrection Quotes
There are no approved quotes yet for this movie.
Discussion Forum
Discuss Birdemic 2: The Resurrection on our Movie forum!