BirdWatchers - La terra degli uomini rossi
(2008)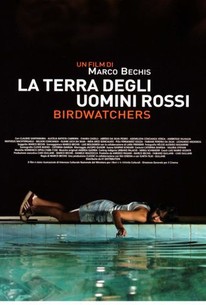 BirdWatchers - La terra degli uomini rossi Photos
Movie Info
A group of indigenous people face off against the modern day owners of their ancestral homeland in this drama from Italian filmmaker Marco Bechis. The Guarani Indians are the native peoples of central Brazil, and though a handful of them still cling to the ways passed down by their ancestors, most have been forced to live on a reservation far from their native habitat and wear traditional face paint and loincloths for the sake of tourists and bird watchers in order to earn a living. Depression and suicide is common among the Guarani, and Osvaldo (Abrisio da Silva Pedro) and Ireneu (Ademilson Concianza Verga) decide its time for them to stand up for their people after finding the bodies of two young Guarani women who took their own lives. With the help of tribal leader Nadio (Ambrosio Vilhalva), they organize a protest and soon a band of Guarani peoples are occupying a farm owned by Moreira (Leonardo Medeiros) and his spouse (Chiara Caselli). Nadio insists that Moreira's farm is on land that once belonged to the Guarani tribe and was stolen from them; however, Moreira and his wife are racists unsympathetic to the Indians' cause, and as the conflict between the farmer and the Guarani becomes more heated, Nadio's alcoholism makes him increasingly unstable. BirdWatchers -- La terra degli uomini rossi was an official selection at the 2008 Venice Film Festival.
Critic Reviews for BirdWatchers - La terra degli uomini rossi
Audience Reviews
There are no featured reviews for BirdWatchers - La terra degli uomini rossi at this time.
BirdWatchers - La terra degli uomini rossi Quotes
There are no approved quotes yet for this movie.